Custom Magnetic Signs For Cars & Vans
You can avail benefits of attractive custom magnetic signs for cars, vans etc to improve your business and to increase reputation. The magnetic signs for vehicles are eye candy for every viewer. You can get any desired message or image printed on these small & large magnetic vehicle signs because it is the finest option of advertisement on move. This attractive custom magnets comes to you at the cheapest possible price. We offer free shipping and artwork setup with these uniquely shaped magntic signs.
Alternatively, you can check outdoor magnets section & magnets size chart for all 30 Mil rectangle, square, circle, & oval shape – car magnets.
You May Also Like

Large Magnetic Signs w/ Free Shipping & Design
Do you have a business or milestone to boast? Do you wish to announce an upcoming social or sports event? Do you wish to raise awareness about deadly cancer or other social issues such as drug abuse or domestic abuse or increasing divorce rates? Seek custom car magnetic signs, unleash your pride, anger, helplessness, or other emotions through them, and address people on move.
Custom car signs are those versatile and sophisticated forms of signage that allows you to sketch your dynamic brand persona over vehicles. You can get any message or image printed on these small & large magnetic vehicle signs and stay assured that they are going to be seen and reciprocated in a befitting way. These attractive printed magnets for vehicles are offered in "most budget-friendly pricing" you have ever known.
Whether you own a single car or an entire fleet, they can be easily transformed into moving advertisement billboards by affixing these full-color customized car sign magnets. These 30 Mil outdoor safe magnets can be customized in eyeball-grabbing colors and they can help you to make a statement.
These UV safe outdoor magnets, when personalized with business logo, contact, and brand information in bright colors become a great identity builder in their own right. They work for individuals of all interests and businesses of all sizes. Our collection is loaded with van and car signs in varied sizes and budget ranges. You can choose from oval, round, square and custom shape magnets.
Be it a rainstorm or harsh sun, your business information imprinted on these magnets can brave them all because they are protected with UV safe coating. This means your marketing magnets is water, heat, and shock resistant.
It is easier to design and order your car signs. You can either send us a design at art@Cmagnets.com or upload a design file at the end of the order page. If you do not have an artwork ready, panic not because we can offer you free design assistance and help you to build it from scratch. If you have any questions about our custom car signs, just give us a call at 855-762-4638 (Toll Free) or mail us at info@Cmagnets.com. Our experts are always at your service and would help to find the right solution for you and your promotional requirements.
We offer outdoor magnets in different sizes and shapes - round, oval, square & custom shape magnets.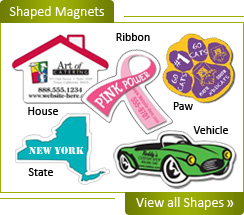 Faqs
How do you ship the products?
We offer three shipping modes - Free shipping (2-4 days), FedEx - 2 Days and Standard Overnight shipping.
Do you charge for art work?
No, we offer it for free. We work with customers until proofing approval is met.