Die Cut Magnet Dimension (inches)
(sq.inches)
| | |
| --- | --- |
| Width (inch) | |
| Height (inch) | |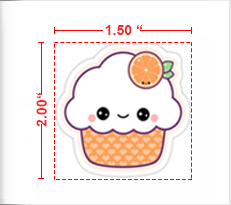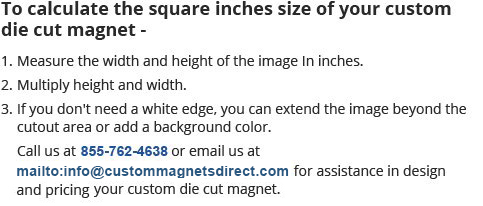 Custom Die Cut Magnets 12 to 13.99 Square Inches
Custom die cut magnets 12 to 13.99 square inches are ideal for advertising and goodwill building at any time of the year. These large sized promotional magnets allow creative expressions and experimentations without soaring marketing budget. Full color magnets keep on sailing long for many years when all other promotional items bow out of scene. It means your recipients will see your brand information or advertisement for many years. All our promotional magnets are backed with a low price guarantee.



Custom printed die cut magnets 12 to 13.99 square inches are large and allow marketers to build their campaigns for maximum exposure and appreciation. Full color magnets possess massive power marketing power than banners, television or radio advertisements. Additionally, we offer complimentary corporate branding package including unlimited artwork proofs, free digital design assistance and free full color printing. It means you can imprint your 1-color brand logo or multi-color brand logo without worrying about additional printing charges.

We offer promotional die cut magnets 12 to 13.99 square inches in 20 MIL, 25 MIL and 35 Mil thick sizes. Like all other customizable magnets, these die cut magnets are designed on high quality recycled stock material and they will bring you great exposure for many years. Usually 20 and 25 MIL sizes are preferred for indoor advertising and they will offer easy visibility to your brand over refrigerator doors and kitchen cabinets as well.

Custom die cut magnets- outdoor safe are built on 35 Mil stock material and they are tested to survive rigors of daily advertising. It means you can drive your advertisement around the town without bothering about rains or harsh sunshine hampering their quality. All our promotional outdoor safe magnets are fade resistant and water-repellant.

We can help adapt any business information over these promotional magnets with ease. All it requires is your ideas and design proofs to convert your dreams into the reality. All our promotional magnets are guaranteed to arrive on time. To know more call us at 855-762-4638 or mail us at [email protected]