Die Cut Magnet Dimension (inches)
(sq.inches)
| | |
| --- | --- |
| Width (inch) | |
| Height (inch) | |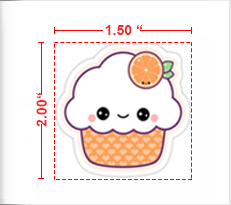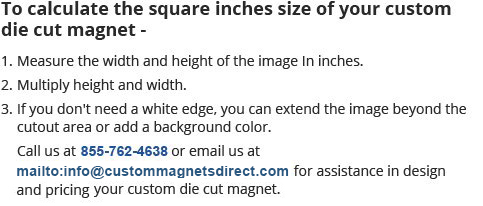 Custom Die Cut Magnets 20 to 23.99 Square Inches
If you are looking for effective and affordable promotional gifts for your next campaign, you can rely on these custom die cut magnets 20 to 23.99 square inches. What makes them special? They offer you lots of creative freedom, savings and long term service. Visually brilliant full color magnets are placed over refrigerator or car for easy reference. Your recipients will be drawn to the advertisement the each time they go near the refrigerator door or use the car. Order yours today !



How you can differentiate a successful brand campaign from unsuccessful ones? A successful brand campaign is the one that places your business information in lots of places. If you wish to run a successful campaign, don't forget to employ these customized die cut magnets 20 to 23.99 square inches in 20 MIL, 25 MIL and 35 Mil thick sizes.

How are custom printed die cut magnets different from the regular cheap promotional magnets? Customized magnets in die cut sizes can be customized in any shape or color. It means there is plenty of room for experimentation and creativity. You don't have to constrain or scale down your ideas to match your budget because we offer free corporate package with all our purchases. It means you don't have to pay for typesetting assistance, digital design proofs and artwork proofs that follow the order.

Full color die cut magnets 20 to 23.99 will easily attract glances over any surface they are fixed. Made of lightweight and high quality material, these promotional magnets are easy to store and transport to tradeshow venues or business convention areas, too. These made in USA die cut magnets are guaranteed to bring you long term exposure. You can always call up our representatives to know more about applications of these large sized promotional magnets. They will lead you through ordering process and even offer free typesetting assistance, free artwork assistance and free full color printing on your purchases. Call us today at 855-762-4638 or mail us at [email protected]