Die Cut Magnet Dimension (inches)
(sq.inches)
| | |
| --- | --- |
| Width (inch) | |
| Height (inch) | |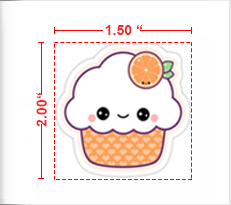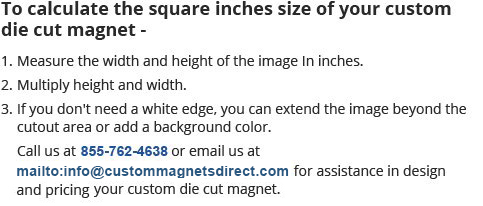 Custom Die Cut Magnets 4 to 4.99 Square Inches
Custom die cut magnets 4 to 4.99 square inches will lend credibility to your marketing efforts and attract attention from over the surfaces, where they are stuck. You can add persuasiveness to business information (that you want to share with your customers) by taking advantage of our free full color printing. Wholesale customized die cut magnets 4 to 4.99 square inches are available for purchase at guaranteed low prices. Save on typesetting assistance and digital design proofs by ordering today!



Custom die cut magnets are perfect for marketers in all budget sizes and business types. Gone are days, when marketers preferred business cards and traditional business literature for networking events. Today, they understand the importance of remaining before customers eyes at all times. However, internet marketing is grabbing momentum, but marketers are employing shaped custom magnets for conquering their customer's minds. Promotional die cut magnets 4 to 4.99 offers lot of creative freedom to marketers to experiment with different shapes and styles of presentation.

Our custom die cut magnets 4 to 4.99 square inches are available in thickness - 35 Mil, 25 MIL and 20 MIL. Promotional magnets - 20 MIL & 25 MIL are perfect for advertising over refrigerator doors, desk and metal surface. Custom magnets - 35 Mil are outdoor safe and perfect for advertising over cars and they help marketers to buy attention for their brand. Our outdoor safe magnets are durable and tested to withstand daily use. It means you can expand your promotional horizons beyond the legacy advertising mediums – television, radio or banners by employing these promotional die cut magnets.

Do you want to create picture perfect campaigns? Why don't you exploit our free full color printing? Additionally, PMS color match is offered and you can avail this facility at slighter costs.

To know more about personalized magnets die cut 4 to 4.99, feel free to contact our team at 855-762-4638 or mail us at [email protected]