Die Cut Magnet Dimension (inches)
(sq.inches)
| | |
| --- | --- |
| Width (inch) | |
| Height (inch) | |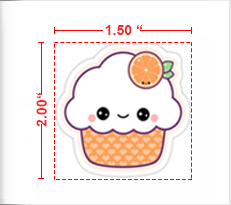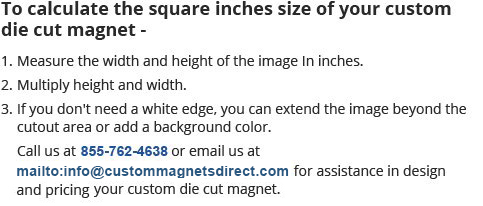 Custom Die Cut Magnets 56 to 83.99 Square Inches
You can keep your marketing efforts in public visibility for years to come by printing your brand information over custom die cut magnets 56 to 83.99 square inches. These made in USA die cut magnets can be transformed into calendar magnets, announcements, shaped magnets or anything that represents your business. You can avail these promotional magnets to introduce your business, announce a business decision or promote your business in the community. Order yours today to save on branding!



These die cut magnets will display you brand information and encourage appreciation every day. With their strong magnetic backing and large size, your brand information is going receive exposure and body for many years. Custom printed die cut magnets 56 to 83.99 square inches are available in 20 MIL, 25 MIL and 35 Mil sizes with full color imprints. Usually promotional magnets 20 MIL and 25 MIL are used for advertising over desks, fridge and other metallic surfaces within home. Custom printed magnets – 35 Mil are outdoor safe with UV coating and will survive rigors of daily promotion.

Logo printed magnets have always been popular promotional items because they serve various purposes. Our free full color printing allows marketers to capture customer's interests for a long time. A beautiful promotional magnet always ends up becoming a great decoration item. As everyone sees these die cut customized magnets they will remember your brand and admire your branding efforts. You can consider these die cut magnets for fundraiser giveaways, community gifts and more. Large sized business magnets are always adorable and they never fail to impress. You will understand it more by ordering these customizable large sized magnets from us.

All our customizable magnets are made in the USA using high quality non-toxic stock material with a strong magnetic backing. These advertising magnets are guaranteed to arrive on time and backed with a 110% price match guarantee. Call us at 855-762-4638 or mail us at [email protected] to know more.