Die Cut Magnet Dimension (inches)
(sq.inches)
| | |
| --- | --- |
| Width (inch) | |
| Height (inch) | |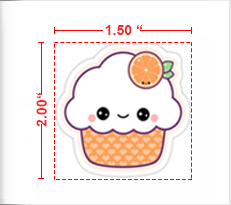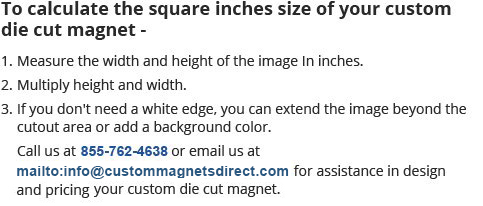 Custom Die Cut Magnets 6 to 6.99 Square Inches
Do you have important information to share? Custom die cut magnets 6 to 6.99 inches are great for that purpose. These large promotional magnets will offer you large canvas for business information and convert all creative ideas into reality. Like all other promotional magnets in our selection, these promotional die cut magnets are guaranteed to bring you leads and big exposure at small price. These customizable die cut magnets make ideal giveaway items for businesses that want to keep its business information on display for many years. Order yours today!



Customized die cut magnets 6 to 6.99 inches are available in 20 MIL, 25 MIL and 35 Mil sizes. This means you can employ them for indoor and outdoor advertising. These full color magnets have superior hold and you brand logo will be prominently displayed on the front.

Every office or home has got a refrigerator or a cabinet receiving high traffic. You can use these areas to promote your business. You can transform these promotional die cut magnets into adorable shapes, so that they get consideration over the refrigerator, cabinet or other metallic surface. Custom magnets – 20 MIL and 25 MIL are used for indoor advertising and marketers can employ them for introducing their business, driving sales at their location and greeting customers at tradeshow venues. A well-designed refrigerator magnet will offer you years of visibility (possibly decades).

Custom printed outdoor magnets – 35 Mil are sought by marketers who want to spread their brand name far and wide without adding to their fuel charges or efforts. They can employ these large sized customized die cut magnets 6 to 6.99 for the purpose. Usually outdoor magnets are employed to announce the new location, sales event or support for the social cause. In short, these custom magnets will ensure that your brand information remains visible at multiple locations for years to come.
We offer complimentary corporate branding package on all our promotional magnet purchases in our selection. This means you can save on digital design proofs, typesetting assistance and full color printing. This means lots of creative opportunities free of cost!

To know more about personalized die cut magnets 6 to 6.99 inches, feel free to contact our team at 855-762-4638 or mail us at [email protected]