Real Estate Magnets
Real estate marketing has assumed challenging formats post-recession and marketers have to work hard to make their information stand out. Typically, you will see real estate signs "For Sale" "For Rent" "For Lease", etc. With so many signs flaunting in the market place, it is important for any real estate marketer to make their signs stand out. We have put this thoughtful collection of custom real estate magnets or realtor magnets for the benefit of realtors who wish to stand out in the niche and hold the audience for long time.

Real Estate Magnetic Calendars 2014 w/ Free Shipping
Do you wish to increase "curb appeal" to your real estate marketing and real estate properties? Grab any of these real estate magnets! These magnetic signs allow you to make right brand impressions and trigger interests of people in your real estate services and realtor business.
Today, realtors understand that their clients expect them to be aggressive and persuasive with their marketing because it will produce beneficial outcomes for both parties involved. These real estate marketing signs are for all those real estate agents who have realized the potential of aggressive niche marketing and trying to sculpt persistent and consistent brand image.
You may agree with us that the first impression is always your best and last chance to excel. You cannot afford to skimpy on quality because opportunity knocks only once! This is why we only offer high quality custom magnets with 20, 25, and 30 MIL thicknesses and all printed in high resolution.
All these real estate magnets are credited to foster the feeling of reliability in minds of people who see them regularly. For better results, you can gift away these durable and appealing realtor magnets during real estate tradeshows and on regular day-to-day networking. Most of these magnets serve more than a year and retained in homes as a refrigerator art, if not as a business reference.
Real estate marketers stepping here can choose from vast collection of magnetic calendars, business card magnets, house shaped magnets, home calendar magnets and land calendar magnets. These real estate calendar magnets offer 365 days of exposure and more.
With CustomMagnetsDirect.com, it is always easier to design your own real estate magnet without budging on the quality or spending lots of money. If you own an artwork, you can mail it to us at art@Cmagnets.com or upload a design file at artwork upload tab, at the end of the order page. If you do not already have an artwork, we can offer you free design assistance and help you to build it from level 1.

If you don't find a realtor magnet of your choice just give us a call at 855-762-4638 (Toll Free) or mail us at info@Cmagnets.com. Our marketing experts will help you to choose more apt promotional realtor magnets, which will easily bring you more Clients and Prospects.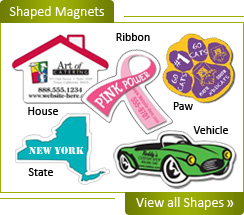 Faqs
How do you ship the products?
We offer three shipping modes - Free shipping (2-4 days), FedEx - 2 Days and Standard Overnight shipping.
Do you charge for art work?
No, we offer it for free. We work with customers until proofing approval is met.