Die Cut Magnets
Custom die cut magnets possess enough ability to impresses any viewer with their genuineness. These typically shaped magnets make good promotional items at all times and well suited for marketing any kind of business or promoting any awareness program or celebrating any occasion.

Die Cut Refrigerator & Car Magnets w/ Free Shipping
At CustomMagnetsDirect.com, we offer a vast collection of custom die cut magnets arranged as per the ascending sizes. Buy this unique fridge product from us and enjoy assured, inexpensive, and effective brand promotion. These custom magnets can be availed in myriad of shapes, colors and sizes with popular choices being die cut car magnets, die cut fridge magnets, adhesive photo magnets, etc.
Achieve your competitive best by involving these customized die cut fridge and vehicle magnets from CustomMagnetsDirect.com.
These personalized die cut magnets are extremely impressive, fun, and budget-friendly way to strike with your customers. Everyone would love to stick these magnets over their refrigerator doors, file cabinets, toolboxes or wherever they can due to their shape and colorful appeal. These magnets can be customized to your brand preferences by adding your logo, contact information, and slogan over them in the colors of your choice.
Personalized die cut magnets make a great giveaway during tradeshows, business convention, corporate events or it can be offered along with festive purchases or as a complimentary gift depending on the choice. They make a great asset to any campaign and even become one value independent relationship builder without any effort.
Do you have a unique shape in mind? Have you found your magnet in this collection? If no approach us with your requirement at 855-762-4638 (Toll Free) or mail us at info@Cmagnets.com. Call us to know special quote for bulk orders.
Free art setup, free design assistance, free online design proof, and free shipping are value advantages offered on all orders.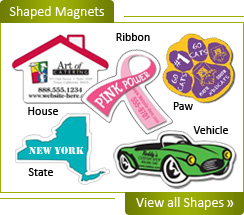 Faqs
How do you ship the products?
We offer three shipping modes - Free shipping (2-4 days), FedEx - 2 Days and Standard Overnight shipping.
Do you charge for art work?
No, we offer it for free. We work with customers until proofing approval is met.