How to use Magnetic Promo Product
How can you use promotional magnetic products to effectively market your business?
If you are looking to increase brand recognition, you can use your companies logo and slogan on promotional fridge magnets. This is a great, simple way to gain brand exposure and recognition. People open their fridges a lot throughout the day!
For those in the fast food or restaurant business, you can use your company name, logo, and delivery phone number on magnets to allow people to easily call you when they need to order from you. These magnets are often placed on a fridge which means when they are thinking about food they are often exposed to your restaurant!
You can even have your whole menu placed on a magnet complete with images as well, wetting their appetite for your food even more!
You can put your logo on functional magnetic products, such as item clips or magnetic notepads. Useful products like these tend to stay in use for a long time, giving you more bang for your buck when it comes to advertising.
When it comes to functional magnetic products, one of the best options to choose is a promotional fridge magnet that can be used as a small whiteboard. You can even include a whiteboard marker & eraser that has your company name on it as part of the giveaway!
If you wish to be constantly visible to potential clients, you can give out magnetic business cards. These are used by many people in a variety of industries and go a long way in helping you stand out from your competitors.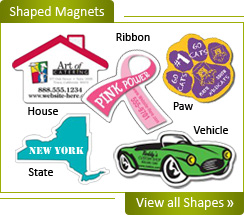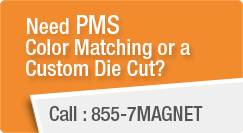 2x3.5 Business Card Magnets
Product & Design Quality - They did a great job and at a great price.
Customer Service & Shipping - Everything that was promised was delivered. Can't beat the free shipping.


How do you ship the products?
We offer three shipping modes - Free shipping (2-4 days), FedEx - 2 Days and Standard Overnight shipping.
Do you charge for art work?
No, we offer it for free. We work with customers until proofing approval is met.
How can I judge the quality of the custom magnets?
All our custom magnets are made in USA from the highest quality recycled material.