Your Message on Picture Frame Magnets Will Live on Forever
Your recipients will indeed cherish your logo as much as their special moments on these photo- frame- magnets! How about freezing your logo with the special moments of your clients on these delightful photo frame magnets? It's the season of holidays and celebrations, which will also mean that your marketing can be more fun and colors with our trendy custom picture frame magnets. Join the family fun of your clients by adding your message on to these magnets; to get them raving over their family holidays and your business alike!
Above all, everyone will love to have photoframe magnets at their homes; as it makes a trendy way to display their special moments and family photos on their refrigerator, filing cabinets, lockers, and other metal surfaces! After all, can there be a more delightful way to get your logo on to their homes, than these good looking magnets that will easily draw a few eyeballs in no time?
Picture frame magnets make ever green gift ideas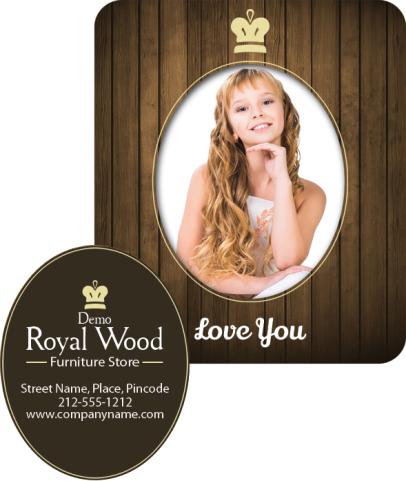 Heart shaped magnets exude a feeling of love and warmth, among anyone who receives these as gifts. It is perfect options for Valentine's days, milestone celebrations, weddings and much more.  It is perfect for all seasons and round the year promotions. Heart shaped picture frame magnets will even win a few brownie points for its familiar shape and the warm feelings that go with it! Imprint these with your logo and hand out as part of festive gift bags or as mailer items to impress your clients.
Fancy a unique gift that is as special as your clients? Look no further than these picture frame double punch full color magnets that ensure a better visibility to your message; thanks to the double advantage of a space for two snaps at a time for your recipients. These oval magnet photoframes will surely look stunning on any metal surface, and will add up to the beauty of their living spaces as well. Oval shaped magnets are indeed favored for their wide imprint area and visibility. In addition, they will not forget your message any time soon!

Graduation ceremony is definitely a moment of pride and happiness for everyone; and by handing out one of these Graduation Announcement Save the Date Magnets picture frame magnets, you can be part of their joy. These magnets are likely to remain forever among your recipients as priceless souvenirs too.  So, make your message part of their personal accomplishments and enjoy a steady goodwill!
Star shaped punch picture frame magnets are something that everyone will love to receive. Announce milestone events and message on these adorable picture frame magnets that stand out for their unique shape. Make sure that you give the best to your customers this season, in the form of these picture frame magnets!
As promotional gifts
Picture frame magnets have a strong magnetic backing, which makes these frames a smart choice for photographers, gift shops, spa, beauty salons and much more. Let your customers flaunt their favorite pictures on these full color custom magnets that are made in USA. Available in various handy sizes and shapes, these photo holders can easily be placed on a refrigerator or any other place that is equipped with a magnetic surface.
Magnetic picture frames make thoughtful Personal gifts too
In addition, picture frame magnets make perfect gifts for parents, grandparents, children or any one special. Be it at homes, offices, school dorms or classrooms, picture frame magnets will never fail to gain easy attention. A subtle blend of style and substance, these will draw your recipients closer to your brand and build positive associations. While they are viewing their snapshots, your message will also enjoy a proud parade. Highlight your brand information or make some important business announcements on these eye catching magnets. Further, it will make sure that your communication never fails to reach your clients.  Moreover, photoframe magnets are also available both in indoor and outdoor safe and UV laminated models that are ideal for cars .
After all, what more can you expect from a business gift? Likewise, imprinted magnetic photo frames are all time favorites as you can hand it out to every genre of customers irrespective of age or gender barriers.
Introducing our trend setters!

This 3.5 x 4.5 picture frame rectangle punch full color magnet will surely make a unique business gift in all seasons. Your message and their snapshot- nothing will be overlooked on these handy magnet picture frames! A welcome addition in any home or office, these will definitely showcase your logo for a long time.
Leave your message in big, bold and beautiful manner on this 4 x7 picture frame full color calendar magnet. These are perfect for budget promotions, mass hand outs and as party favors and gifts. Your writing on these frames will never go unnoticed for sure.
Square picture frame magnets will obviously enjoy high visibility over any surface. Your logo will be put under spotlight as much as the snapshots on these frames. It will also make a long term investment; that will ensure more value for your promotional dime!
This photo frame paw print magnet will definitely make a thoughtful gift for all pet lovers and for animal welfare awareness campaigns. People may even love to put the snaps of their lovable pooch in these paw print frames to complete their family picture. Really thoughtful and fun gifts, these photo frames will even underscore the fact your business care for relations and emotions.
Give your clients something that they will cherish
In addition, these gifts will remind them of their special moments and milestones and get your logo part of their most memorable events. Isn't that great? Imprint your logo or message and hand out these magnet frames that everyone will find trendy options hold their own family pictures. Design your artwork or choose from our templates to make sure that these gifts will bear your personal touch.
Custom photo frame magnets are great for grand openings, weddings, anniversaries, school events, and much more.  Get the attention that you desire with these practical gifts that people don't mind getting every other day!
Make their special moments your marketing milestones
Special moments, celebrations and milestones are what make the life of people truly special. Get your clients to celebrate these precious moments in style with our logo photoframe magnets. Package your message into something they'll look at and use all season long on these delightful logo magnets, and see how these business gifts generate leads and create brand awareness in the long run.
Superior Designs and imprint options
Make use of our state of the art full color imprint options to customize these magnets the way you want.  Imprint it with your message, quote, snapshots and more on these to complement your professional brand image.
Magnet photo frame benefits

Use as Fridge art and wall decor
Magnet photoframes are perfect for framing photos, certificates or motto. These will look good on any metal surface like filing cabinet, desk cabinet or a refrigerator door.
As Personal gifts
Magnet photoframes can be given as gifts on special occasions such as Christmas, birthdays, bridal, or infant showers or with purchase.
Change the way they see your logo with custom photoframe magnets!!

Can there be a better way to show that your brand appreciates family bonds and values, than to give out magnetic photo frames? Photoframes will not just showcase the family snaps but also make a handy hold up of recipes and shopping lists on the fridge for many people. As friends and family appreciate these cute snaps, they will never fail to note the warmth and bonding that your message ensures while reaching out to your customers. It makes a powerful business statement indeed!
Photo Frame Magnets can also be used for promotions, product launches and special events. Put your message on high traffic zones of homes and offices where it will be seen by people many times a day!
Custom magnet and a picture frame in one!
A smart and cheeky giveaway that will indeed get your business all the attention it deserves!
Choose from a range of picture frame magnets in different shapes, sizes and models.
A custom magnet that doubles up as a photo frame for your customers
We are Here for You; reach out to us for ideas and tips.