Custom Calendar Magnets- Brand Promotion For A Whole Year At One Time Investment
Posted by Cmagnets
Posted on October 19, 2020
If you are looking for a custom gift that ensures 365 days of brand promotion at one time investment, look no further than custom magnets. These full color, attractive calendar magnets make an excellent way to get across your message as everyone will be gazing at these calendars quite often until the year is over.
So, whoever you gift these logo magnetic calendars to, you are rest assured of a grand display for your brand and message. Once you hand out these custom calendar magnets, your business promotion starts virtually without putting much effort from your end.
Although there are digital calendars available in laptops and Smart Phones, desk calendars still enjoy a unique charm. Apart from being a handy reference item, these full color magnets also make a unique decorative item on fridge doors or filing cabinets. Anyone who happens to see these attractive magnets will find it hard not to talk about it. Magnets indeed make a great conversation topic, which in turn will set off word of mouth publicity for your message.
 Distributing calendar magnets has become a trend now. Budget friendly, portable and above all available in various models and designs, calendar magnets will win hands down as New Year promotional handouts for your clients and prospects. Get your logo and message imprinted on these everyday items to stay noticed for a whole year!
 Probably calendar magnets are seen in every room because people find it an easy way to keep track of the days, dates and important events of the year ahead. Having a tangible calendar that they can see and inspect will help them plan their days and schedules effectively.  Easy to take off and reposition, calendar magnets will earn easy attention wherever these are kept.
Calendar magnets are versatile as these can be used in various promotional contexts and events without being out of place. Choose from various popular models that align with your business to leave a lasting impression. For instance, house shaped magnets will make a perfect choice for promoting realtor business or home maintenance services. The easily recognized shape of a house will pique curiosity in the minds of whoever sees it.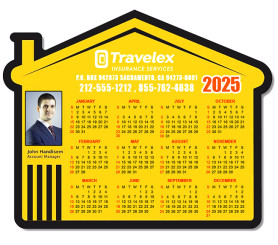 School calendar magnets are perfect handouts during back to school events. Customize these with important events, holidays, sports days and other important red letter days to give the students and teachers a quick glance of the events that lie ahead in the school year.
How do you plan to use custom calendar magnets in your promotions? Share your thoughts with us on our facebook page to join an interesting conversation.