Top Trends in Custom Calendar Refrigerator Magnets Just in Time for New Year
Posted by Cmagnets
Posted on November 25, 2020
Reports show that most people like to receive calendar refrigerator magnets as promotional gifts as these are highly practical.  Highly affordable and incredibly useful in everyday lives, custom calendar magnets will make a great promotional item to boost your visibility and brand reach. Calendar magnets are one of the most effective marketing tools that have the potential to pay you back in a big way.
Not sure which kind of magnet is right for you? Here are some of the trending models that will help you get started.
Unique Shapes
Calendar magnets are not just square or rectangle shaped; you can choose from a wide range of interesting shapes that align with your brand image or product line. For instance a house-shaped calendar magnet with chimneys and steeped roofs will lend tons of charm to your branding; plus your audience will easily identify these promo gifts with your  real estate business niche as well.Imprinted with a whole year calendar, these logo items will stand out from the rest of the crop of magnets on fridge doors.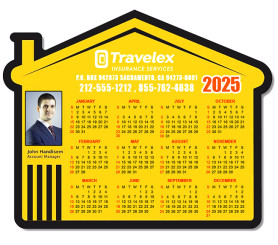 Photo Frame Magnets
Offer the dual convenience of a photo frame and  a calendar all at once to your audience with these logo calendar magnets. Your customers will see your brand name regularly every time they check on the family snaps or the day and date of the year  It is a smart way to reinforce your brand presence in schools, offices and homes at the start of the New Year.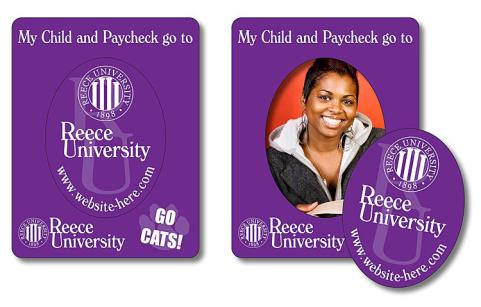 Paper Calendar Magnets
Add a magnetic twist to the old fashioned calendar to ensure the best of both the worlds. These tear away paper calendars with a magnetic top have separate sheet for each month that can be torn away to reveal the next. At the end of the year, your recipients will end up with these full color refrigerator magnets.
Double Sided Calendar Shape Magnets: These full color magnets offers you double promotional scope at a meager investment. While the calendar can be imprinted on one side the other side can be utilized to position your business message and artwork . handy and compact, these calendar magnets make great mailer items, store promotional swag and others.
School calendar
Show  off your school pride with school colors, motto or anthem  as your backdrop. You can even color code dates when school is out or during big games. Parents, teachers and students will be immensely proud to display these well customized school calendars on their refrigerators.
Need more? Check out our complete line of custom calendar magnets to choose a model that matches your theme.