Custom  Shaped Magnets- Stand Out In The Competition
Posted by Cmagnets
Posted on November 4, 2020
 Custom shaped magnets will stand out from the rest of the crop of  magnets on the refrigerator doors and get your message pop. Shaped magnets are  a fun way to spread the word and are perfect for placing on garage doors, refrigerator doors, school white boards, dishwashers, refrigerators, or any other magnetic surface.
These full color magnets offered in various interesting shapes like trees, animals, vehicles and infact any shape that you can imagine will never fail to make your audience stop on their tracks. The best part is that these high visibility magnets make effective branding tools without being intrusive unlike most other conventional advertisements that are on the face of your audience.
Imprinted shaped magnets are a fun way to engage your audience with your message without being wordy or boring. For instance, a pizza shaped magnet is all it takes to make your audience understand that you are promoting your pizzerias; likewise a dog shaped magnet is the best way to talk about your pet business or a house shaped magnet can be  a great  way for a home renovation company to really catch people's eyes.Your audience need not even go through the message to understand your promotional objective.
Why shaped magnets
The art of advertising is the key to influence and inform customers. Magnets are a budget friendly and effective medium to market who you are and the services you provide. Shaped magnets will not just set your company apart and help bring in customers but also set off word of mouth publicity and referrals as well.
88% of people can remember the advertiser on a promotional product and 85% of people prefer to do business with the company featured on a promotional product! So, just imagine the attention and consistent exposure that your logo and message imprinted on custom magnets will get!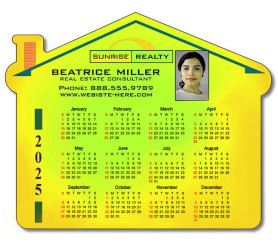 Versatility
Never underestimate the power of shapes and visuals in the world of business. Having a shaped magnet that aligns with your brand will help you to capture the attention of your target audience and leave a lasting impression in them.
If you're seeking a fun way to get your message across, shaped magnets are great options.  Apart from your logo and message, add useful tips like CPR tips or kitchen conversion units to make it more useful for your audience.
With a wide range of shapes to choose from, your promotional shaped magnets can have a powerful,  on-brand look that is hard to miss!