Custom Picture Frame Magnets – The Best Way To Get All Eyes On Your Message
Posted by Cmagnets
Posted on November 3, 2020
Picture frame magnets are an underutilized promotional item that combines the double goodness of a traditional fridge magnet with the utility of a decorative picture frame. Picture frame magnets get easy attention from your audience and can be effectively customized to highlight your products and services.
Offered in various shapes and sizes, picture frame magnets are fun to customize. Put on your creative caps to come up with a great artwork, message or call to action message to make it a great promotional tool that will ensure dual brand exposure at the cost of one.
Any budget savvy marketer that wishes to maximize brand exposure on a limited budget will find picture frame magnets a perfect choice. Magnet frames will make its way to high visibility strategic locations at home or office of your recipients while doubling up as your billboard. Photoframe magnets can be used on any metal surface in order to hold and display a photo, inspirational quotes or other documents by your recipients.
Versatile and popular, these custom magnets can be used by any industry as these will never look odd in any event. Likewise audiences of all types can use a magnet frame in their home or office. So, marketers can employ these custom magnets for a highly targeted promotional campaign to reach any desired demographic.
These full color, factory direct  magnets made in USA will pop out literally from refrigerator doors, filing cabinets or infact any metallic surface. The high visibility enjoyed by these products will set off ample word of mouth publicity for your message. It is hard to miss these colorful magnets for anyone who happens to see it. Choose in various sizes an interesting models like punch out photoframes  with a distinctively shaped slot for the photos that your audience will find interesting.
Photoframe magnets get a warm reception and long retention. Your message and logo imprinted on these will remain in plain sight of your audience for a long time. These magnets have a massive imprint space for your logo and message, which will be seen from all angles by recipients or visitors.  These creative custom magnets will easily attract the attention of your audience to the frames and get them talk about it for a long time to come.
Your recipients can display their child's photos, family reunion moments or vacation memory snaps on these magnets and relive precious moments each time they open  the fridge. Picture frame magnets will stand out from other magnets, and help you get just the attention that your message deserves.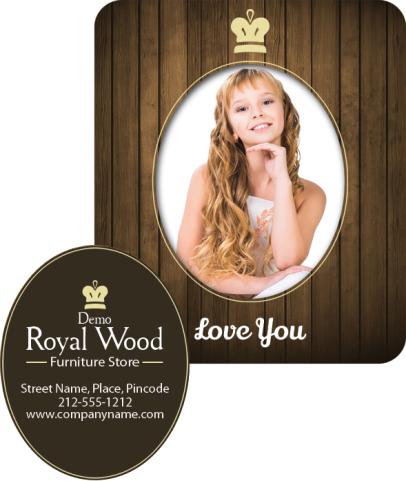 If you are looking for a budget friendly handout with a stand-out appeal, look no further than picture frame magnets. Compact and easy to distribute these handy items make excellent giveaways as point of sale gifts, mailer items or trade show swag.
How do you plan to use custom picture frame magnets as your marketing items? Share your thoughts with us on our facebook page.