Custom Refrigerator Magnets- Marketing That Sticks
Posted by Cmagnets
Posted on November 2, 2020
Compared to other forms of advertising, refrigerator magnets ensure you of an incredible ROI that is virtually unheard of elsewhere! On a typical day, anyone will walk past the refrigerator at least 15 times and these full color magnets make 5400 impressions for your brand each year! No other form of marketing can stake this claim. The best part is that, custom refrigerator magnets are available in a wide range of shapes and price rates to cater to your promotional needs.
Conventional advertisements and mass media publicity like radio, TV or newspaper are  exorbitantly expensive, which makes it beyond the reach of average businesses. Add to it the fact that these may not be as effective as you wish as  it wont reach your potential customers as they may change the TV channel or discard the flyers before even seeing your message . However refrigerator magnets will make its way to the fridge doors and remain in the eyesight of your prospects for quite some time.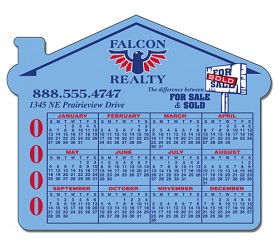 At a price starting at a few pennies, promotional magnets are extremely cost-effective, which make it a clear favorite for mass events like mailer campaigns or trades hows.
As mailer gifts
Being light weight and flat, refrigerator magnets are excellent mailer items. Add a custom magnet along with your newsletters or holiday greetings to add the value of your communication and leave a lasting reminder of your brand. Customize with your message, artwork or logo to make it engaging and interesting. Your full color imprint will get easy eyeballs and even word of mouth publicity.
Magnets are easy to customize; you can even do it on your own with the design studio tool or use an artwork that you may already have. If you wish to handout this task to the experts, our designers will go that extra mile to turn your ideas into beautiful shapes and forms.
As Thank You giveaways
Show your appreciation to your clients or employees for their support and loyalty with custom magnets! These long lasting giveaways will create a positive impression about your organization in the minds of your audience and will keep your audience well pleased and appreciated while your message gets a wide angle display.
Want only the best for your business? Browse our complete line of custom refrigerator magnets and choose from some of the trending models like calendar magnets, save the date magnets, business card magnets and so much more. These top-quality refrigerator magnets will easily set you apart and advertise effectively.