Get  Your Brand Stand out with Unique Shaped  Custom  Magnets
Posted by Cmagnets
Posted on August 10, 2020
Shaped magnets will easily double pull as business cards during networking events and store promotions. Apart from popularizing your brand, these logo magnets will get you new leads and set off word of mouth publicity as well.
 Handing out custom shaped magnets will make a fun way to get your recipients remember your brand and get in touch with you when they need your services. A smartly customized magnet will give your business a cutting edge over others. Get easy attention and appreciation by choosing shaped magnets that will align with your brand. If you have been using the conventional rectangle or square shaped magnets all these days, it makes a  perfect time for you to choose something unique.
For instance, dentist offices can choose tooth shaped refrigerator magnets that will make its way to the fridge doors of their prospects to make a long lasting reminder for your message. If you have a pizzeria, pizza shaped magnets will make a walking talking billboard for your business to engage your audience and remind them of the crunchy pizzas that you are famous for !
 Having high-quality, well-designed custom magnets will put you ahead of your less-prepared competitors. Getting your message printed on custom magnets of unique shapes will help you draw more eyeballs even in large events like trade shows and conventions. It will easily stand out from the rest of the crop of the fridge magnets that your recipients may have and will make a great talking topic in their friend's circles.
Choose from a wide range of shapes and sizes that will give your brand a distinct advantage. Customize it in an interesting way to make it irresistible for your audience. It is a fun way to reflect your brand identity and get your prospects in a light hearted dialogue with your message. House shaped magnets will make a great way for realtors or home maintenance services, home loan providers etc to drive home their message. The well recognized shape of these magnets will make your half done because whoever sees these unique magnets will instinctively understand that your business is related to housing sector.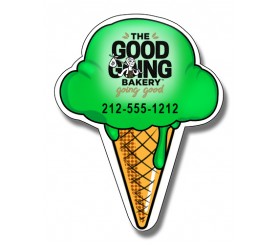 Our selection of shaped magnets will give you a lot of elbow room to create practical and creative designs that reflect your brand's personality.  The big plus is that your recipients will find these unique magnets as collectibles and not just as promo items. Being subtle is what makes promotions effective.
 How do you plan to use shaped magnets in your marketing plan? Share your thoughts.