Shaped Magnets Make Great Handouts On Dessert Day
Posted by Cmagnets
Posted on October 14, 2019
What is the best way to round off a meal? Desserts of course! Every one of us loves to dig into the smooth and soft flavors of these delicacies. So, if you happen to be an ice cream or dessert shop owner, this is the best day for you to highlight your brand and promote your signature flavors.
Looking for some interesting handouts and store promotional freebies that are as popular as your best selling desserts? Look no further than shaped magnets. Your brand and message over these will tempt your recipients to explore the flavors more often. Dessert Day is another excuse for everyone to indulge in their favorite treats.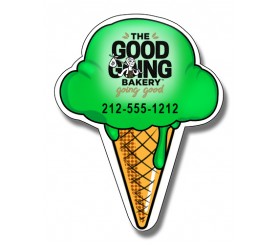 Desserts are high in nutrition and rich in calcium, vitamins and carbohydrates that make you feel active. The best part desserts make you happy as these stimulate the brain to produce happy hormones such as serotonin that contribute to overall emotional well-being. Indulging in your favorite dessert leaves a positive impact and ensures a sinless pleasure.
History of Dessert Day
The origin of the word dessert comes from the French word "desservir," which means "to clear the table." This refers to the dish that is served after the main dishes. The earliest references to the term dessert dates back to the 1600's.
How to celebrate
Deck up your stores with icecream shaped cutouts and images, Set up a chocolate fountain and a display boards of the latest flavors to attract more footfalls to your stores. You can even announce freebies and discount deals. Handing out ice-cream shaped magnets that are imprinted with your contact information will be a smart way to celebrate this day and to impress your audience all at once.
 Printed Ice Cream Cone Shape Magnets 20 Mil will make a great décor item for refrigerator doors. Every time your recipients see these, they will be tempted to check out what's new at your stores!
You can organize recipe contest or Dessert photo contest and more in connection with this event.  So, how do you plan to celebrate Dessert day? Share your thoughts with us on our facebook page.