9 Promotional Magnets Your Business Needs
Custom magnets are not just great décor items, but make marketing tools that work!  Available in a wide range of interesting models including sports schedule magnets, business card magnets, car magnets and more, you have endless options to consider.
Wondering how custom magnets can help in marketing your business? Here are some ideas that will help you get the most of custom magnets.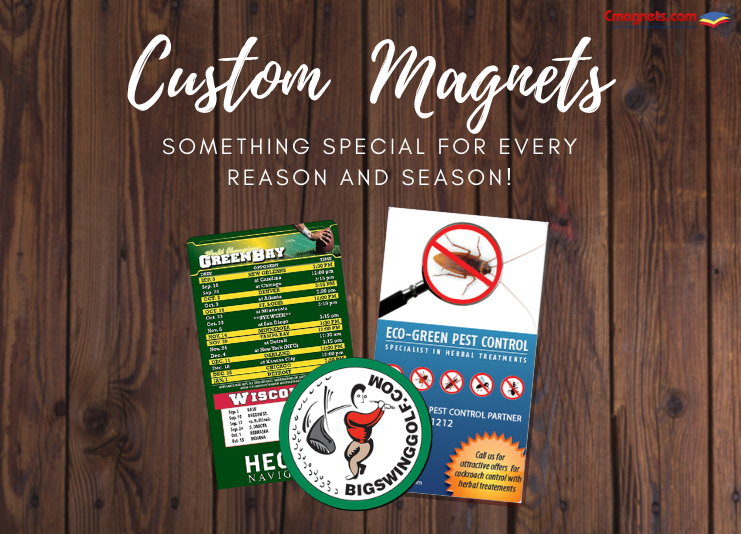 Business Card magnets
Business card magnets are one of the most popular ways to market your business, as these full color magnets will  place your logo right on the customer's fridge doors. Thus it will make a tangible reminder for your brand, that will make consistent impressions for a considerably long time. Plus, these trendy magnets will make interesting fridge décor items that make people curious. The best part is that your recipients will find these  magnetic business cards  useful, to hold up their reminders and shopping lists. It will further enhance the engagement of your recipients with your message  on any magnetic surface.
Another advantage of custom business card magnets is that these are cost effective, long lasting and easy to distribute in mass events or mailer campaigns. While paper business cards get damaged or discarded quite easily; magnetic business cards enjoy an incredible shelf life.
Refrigerator Magnets
If you need an easy and effective way to promote your business, custom refrigerator magnets will make a great choice. Add your logo, artwork and message on these full color magnets to make it an engaging promotional swag. These full color magnets will remind your customers of your business, every time they open their fridge. These attractive magnets often make a great talking topic among the friends and family of your recipients; which in turn could lead to referrals.
Moreover, businesses can increase the value of these fridge magnets by including discount coupons. It will inspire the prospects to think about your company as they open the fridge. It is a smart marketing strategy for restaurants and cafes. Further, people are less likely to misplace a fridge magnet with coupons compared to a paper advertisement with coupons.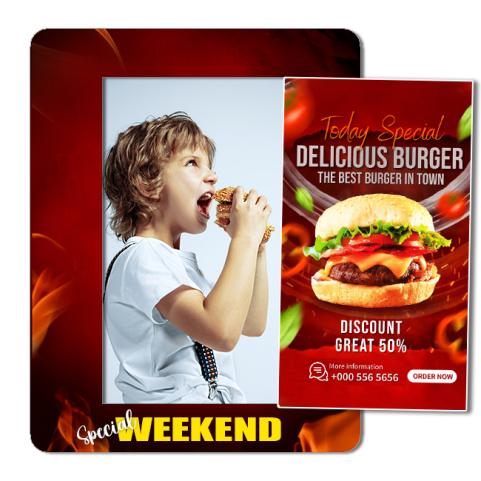 Calendar magnets
Everyone needs calendars to keep track of the days and dates of the year; and stick to the job schedules or holiday plans. Calendar magnets will obviously ensure 365 days of brand promotion at one time investment. If your business offers a routine service; include calendar magnet to spread your word and engage your audience with your message.
Picture frame magnets
In addition, nobody can resist these full color picture frame magnets nor the logo and artwork printed on it. Available in various shapes, picture frame magnets will also complement your business line with ease, and will give the recipients a special reason to remember your brand. Thus, picture frame magnets work both ways by offering a delightful picture frame for the snaps of your recipients, while doubling up as your branding board. Win-win.
Sports schedule magnets
Sports schedule magnets are indeed a great way to make your brand stand out. Available in various sports themes, these full color magnets increase brand awareness and make a cost effective promotional giveaway that will get ample attention not just during the sporting season but even beyond as sports souvenirs. All you have to do is place these full color magnets on a magnetic surface and move it as needed to ensure optimum visibility. Sports magnets are ideal to promote sports bars, sports clubs and in fact any sports themed event.
Shaped magnets
Another popular way to advertise your business is through shaped magnets. Available in a wide range of shapes and offered in both indoor and outdoor models, these full color magnets  will easily put your company's name, contact information and much more onto your own portable moving billboard to reach a wide customer base.
These make an inexpensive yet eye catching way to reach out to your audience and leave a lasting impression in their minds. These are less expensive than conventional advertising media such as newspaper or a TV ad.  Easy to apply and take off, these temporary billboards enjoy incredible portability as well.
Car magnets
Outdoor safe and designed to withstand the elements with ease, car magnets are easy to apply and take off the vehicles. So, if you are looking for a budget friendly way  to take your message  far and wide, these full color magnets will make a great choice. It will indeed win hands down as proven marketing tools for target promotions. All you have to do  is place your car magnets on a clearly visible surface of your vehicle; and  see how the motorists and people on the streets will be impressed by your ad and will even contact your business!
Awareness magnets
Highlight your social commitment and impress the audience with these full color awareness magnets. Choose from a wide range of models including the well recognized ribbon magnets that can be used to support cancer awareness events and raise funds for the survivors . Customize it with your logo, message and artwork to make it long lasting reminders of your responsible marketing. These logo magnets will even enhance your support base and popular among local audience.
Announcement magnets
In addition, marketers need to ensure a steady communication with their prospects to keep theme engaged with their brand . Announcement magnets can also be customized to share important announcements like product launch, milestone celebrations and other important happenings in a subtle and interesting way.  Thus, it will keep the customers feel special and be part of your business. Light weight and compact, these magnets are also easy to distribute in person or as mailer items. Customize it with your logo and message to make it unique.
Summing up
Custom magnets are completely customizable with your brand and message to meet your specific needs. They can be designed in any way that you wish to deliver your promotional message. Magnets enjoy an incredible fan base and will earn a premium real estate in every home, office or school. By investing in these popular promotional magnets, you get the advantage of consistent brand display without any repeat investment or effort.
Should you need more tips, watch this space for our daily blog posts.