6 Reasons Why Custom Magnets Are Popular Promotional Items
Promotional products like logo magnets have always been popular ways to enhance  your marketing strategy and market presence. Custom magnets win hands down as a popular choice because these are fun to customize, budget friendly and above all popular among every class of recipients.
 You can also customize these full color magnets to complement the needs of your business. Apart from the basic details like logo and contact information, think of interesting artwork or taglines that will surely make these logo magnets unique and  one of its type. Make sure to include your corporate colors to make it complement your business theme.
Long lasting and always prominently displayed, custom magnets are available in a wide range of models including those for indoor and outdoor applications.  Versatile and ideal for all types of business promotions and events, magnets  will fit all types of marketing plans. The best part is that even when magnets remain in plain view of the audience , your prospects wont find it intrusive unlike traditional ads like TV or online ads that pop up often . Logo magnets engage your audience with your message in a fun and light hearted manner.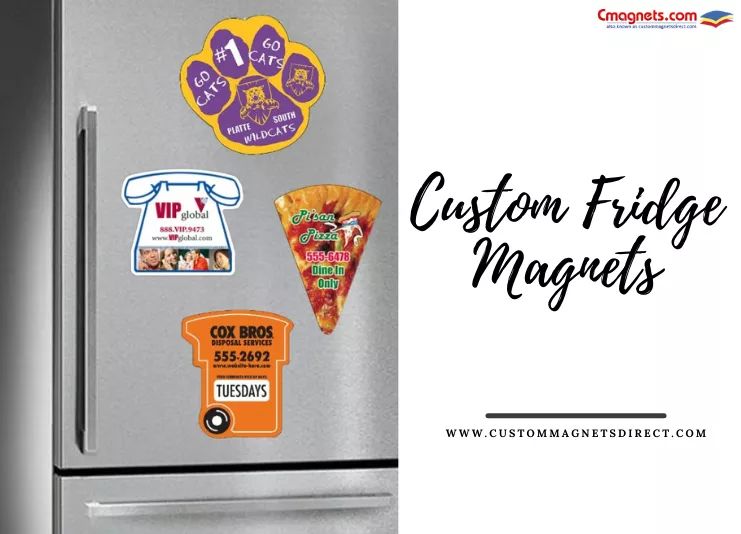 High visibility
Anything imprinted on custom magnets will never be missed. Every time your recipients open the fridge doors, or filing cabinets, your message will come to their attention. It happens many times every day. So, you can imagine the countless impressions your brand  on logo magnets will make during its incredible shelf life.
Budget friendly
Custom magnets have one of the lowest costs per impressions. These factory direct magnets made in USA are available at prices starting only a few cents. Thus these giveaways are ideal for mass promotions like trade shows and mailer campaigns. You will definitely change your opinion that having a modest budget can make your campaign less effective, once you start using custom magnets.
Portable
Magnets are light weight and compact, which makes it easy for marketers to distribute it in person or as mailer items. Plus, you can also save on warehouse expenses and transportation costs when you use light weight handouts like custom magnets.
Functional
Printed magnets are not just fun and colorful, but make high utility handouts for the recipients. They will find it useful to hold up reminders and shopping lists  on their fridge door or even as brightly colored fridge decor items that embellish their plain fridge doors. Marketers can further enhance its utility by printing emergency numbers or CPR tips among others to get the prospects refer your logo magnets more often.
Easy to customize
The full color magnets have a generous imprint space to highlight your branding elements to create a story telling experience. Add your logo, message and artwork to make your marketing message interactive. Your prospects will surely be drawn to your promotional magnets if it features an interesting design and tagline.
Magnets are special and budget-friendly, and they are going to convey your message. Your employees and clients are going to cherish the business relationship even more. All these handouts are a great way to show how much you  love them.  The best part is that as they are cost effective' so you don't have to wait for a special occasion to use custom magnets as giveaways.
Interested in making logo magnets as your merchandise? Browse our collection to choose a model that you think will match the preferences of your audience