Benefits of Custom Magnets- Must Read
Investing in promotional magnets is a fabulous way to build brand awareness and boost sales. If you haven't been using magnets for promotions, see this impressive list of benefits that they offer.
Save Money on Advertising
Logo magnets are relatively cheap and are available at prices starting a few cents . So, even start up companies and low budget marketers can buy custom magnets with a small investment. Thus logo magnets will help you save a lot on advertising expenditure. Putting up expensive banners need not convert into leads considering the fact that not many people may not see your message on it . However when you invest in promotional magnets; you can easily distribute it to your target customers in person or through mailers. Thus they tend to be more effective yet cheaper than large billboards and signage.
Attract Customer Attention
Custom magnets attract customer attention easily; and persuade them into checking out your company's products and services. Easy to customize with your brand and message; these full color custom magnets will draw easy attention to your business events thereby enhancing sales and making profits.
Whatever your target demographic is, custom magnets can engage them to also make effective business leads.
Build Brand Awareness
Custom magnets enjoy an incredible visibility as they will remain in plain view of your audience. Thus you can enhance your corporate image in the customer's mind and make them engage with your brand. It is a known fact that clients are more likely to purchase from a company they are familiar with rather than a brand they are new to.
Versatile Promotional Material
Custom magnets can be used to promote a wide variety of businesses right from restaurants to realtor agencies and more. It will fit any marketing plan and can be used to advertise a sale promotion, discounts, and special offers. Easy to apply, take off and reposition , printed magnets make effective temporary billboards that can be set up wherever you want.
The possibilities are endless when it comes to customizing magnets . Apart from your logo and contact details you can include  images , taglines or call to action message. To make it more value added, marketers can even include useful information like sports schedules and  kitchen conversion unit among others.
Limitless options
Custom magnets are available in a wide range of models right from car magnets to refrigerator magnets , die cut magnets , picture frame magnets and more. Plus, you can get your name out there to the general public on the move as you drive your business vehicle down the road by investing in custom car magnets. It can get your name in front of a large group of people and it travels wherever you travel! So, marketers that wish to reinforce their local presence can invest in car magnets.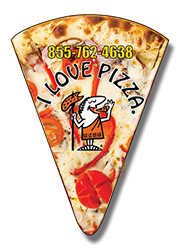 On the other hand, if you wish to reach out to a sport loving audience, custom sports magnets will be a better choice. Available in various sports themes, these full color magnets will be a fun way to talk about your business and engage them with your brand through the medium of sport. Every time they refer their favorite team's schedules they will also see your message, which in turn will increase their brand recall. Options are all yours when you make custom magnets as marketing tools.
So, how do you plan to use promotional magnets in your promotions? Share your ideas in our comments section.