Custom Magnets Offer Something Special For Every Reason And Season
Custom magnets have evolved to popular and fun filled marketing tools that will leave nothing to chance as far as branding your business in concerned. Offered in a wide range of exciting models, these full color magnets will put your brand right in plain sight of your target audience all year round. Every time they open their fridge doors or filing cabinets, they can't help taking yet another look at your interesting message. It is these consistent impressions that translate into leads and new business in the days ahead.
Here are some of the popular custom magnets that can be included into your promotional mix to ensure a successful campaign that too without breaking your budget.
Sports schedule magnets
There's always something new happening in sports! Every new season brings along with it ample reasons to cheer for the teams. The thrills and spills of a game that is hardly fought till the last whistle gets binge-watched as much as Game Of Thrones! The sports fans indeed have interesting story lines to  follow. It is this exciting possibilities make custom sports schedule magnets a perfect medium for marketers to give what their audience may need for the whole season and stay in their mind through that.
Sports magnets make a daily reminder to a customer of something they love and your logo and message will get a special place in their mind as they feel naturally inclined to businesses that care about their interests. Of all the things, sports schedule magnets will give  a perfect opportunity for you to align your brand with the game day excitement and emotions that go down well with the audience!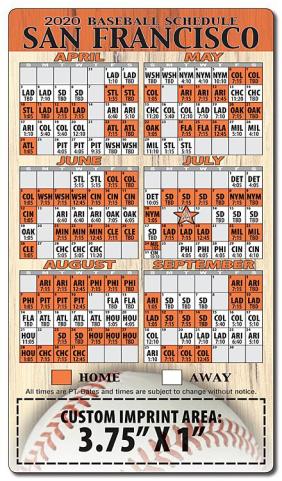 Calendar magnets
A calendar magnet stands out easily and get used in myriad ways. It will remain in plain sight of everyone and will get glanced upon many times a day. It is this unbeatable visibility of calendar magnets that earn these logo items a few brownie points extra. Magnetic calendars can be customized with your logo, message or infact any information you want to share. You can even think of a different design every year to give a fresh appeal to your branding.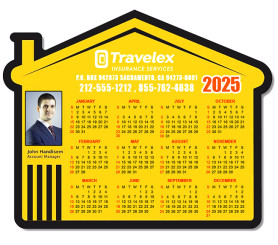 Available in a wide range of models and sizes, calendar magnets can be easily matched with any promotional theme. For instance, a house shaped calendar magnet is  a perfect choice for realtors while a school bus shaped calendar magnets will easily ensure more mileage for schools during their back to school promotions and other events.
Business card magnets
The places marketers can distribute business card magnets are almost endless. Sleek and light weight, these magnetic business cards will not get damaged or misplaced like the old school paper cards. Plus your message and contact information will be in the eye sight of your audience for a long time. So, next time when your prospects need to reach you, all they need to do is cast a glance on these full color magnets on their fridge doors!
Need more? Browse our complete line of custom magnets to pick up a model that meets your needs.