How Custom Magnets Help You To Create A Winning Marketing Plan
Creating an effective marketing plan sets the foundation of any branding promotion. Whether you are planning a product launch , a promotional drive or fund raising campaign, custom magnets will make a great handout to consider.
Choose the right model
We can never emphasize this tip enough when using custom magnets in promotions. Available in various models like fridge magnets, picture frame magnets, calendar magnets and more; you can easily choose a model that best suits your needs. These full color magnets available in various shapes will easily grab easy attention of your target market. It is not all, anyone who happens to see these quirky giveaways also will be tempted to know more about your brand. Thus your brand message will get a display further and wider. Before you even know it, your brand will be a force to reckon with in the industry.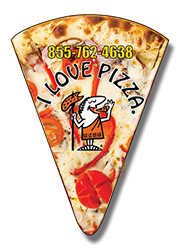 Budget friendly
As custom magnets are cost effective, marketers can order it in bulk for mass events like trade shows and mailer campaigns. So, if you are planning a massive promotion on a low budget, custom magnets will indeed be a great choice.
Easy to customize
Marketers can imprint these full color magnets with their brand and artwork in full color, to grab easy attention of your audience. Besides, make sure to come up with creative ideas to make the magnets look unique and flaunt worthy. It will also ensure that your business magnets will earn a grand display spot on the fridge doors of the prospects. Moreover, it will give a solid reason to talk about these attractive magnets to everyone around; and to set off word of mouth publicity for your brand.
Something special for every event
Custom magnets are available in a wide range of popular models that will match every promotional theme. For instance, if you are hosting a fund raising event, custom car magnets will be a great choice. Put your social message on display while on the move on these full color car magnets. People will surely be excited to buy these trendy magnets for their vehicles at easy rates and be part of the cause.

Mailer campaigns are a proven strategy to reach out to your target audience. By getting your message right into your niche audience you are assured that the promotional dollars are well spent. Picture frame magnets or calendar magnets will make great mailer items. These value added logo magnets will get a long term display on their fridge doors as a picture frame or a calendar for the whole year. Every time they check out these magnets, their brand recall will go up

Trade shows offer incredible networking scope for businesses. Distributing custom magnets is a clever way to send the attendees back home with your message . Business card magnets will make an obvious choice for this. Your logo and contact information imprinted in full color on these business cards will stay in plain sight of the prospects for a long time even after the event!

How do you think custom magnets will increase your branding reach? Share your ideas with us.