How Custom Sports Schedule Magnets Promote Your Local Business
It hardly matters which sports turn you on or which football team you root for, custom sports schedule magnets make a great option to promote your brand during sports seasons. Customizing and giving away branded sports magnets will keep your business's name in the back of your customers' minds, for a long time even after the event . Add your logo, mascot or tagline on these full color custom magnets to get all eyes on it. These logo magnets will take your message on your recipient's refrigerator.
How sports schedule magnets can market your business and potentially bring in more customers? Sports is a common platform that bring people from all walks of life together. So, when you need a subtle branding tool to get your message across; there cant be a better choice than custom sports magnets. Available in various sports themes, these magnets offer something special for everyone and will never fail to stand out. Ideal for all types of business promotions and events , sports schedule magnets in your marketing campaign can benefit your company in some way.
Budget friendly and easy to distribute, sports magnets will enhance your brand outreach without much effort . Moreover, custom sports ,magnets can yield a positive return over time; because customers will always keep the business in the back of their mind when using these items. That's why it's so important to include sports schedule magnets for your business. Every time your recipients will see your brand when looking at the schedule to find the next game.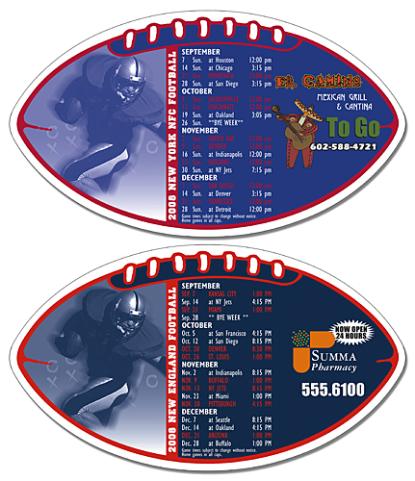 Be creative
Custom sports magnets have a high visibility imprint space for you to place your logo and message. Put on your creative caps to come up with an interesting message that will match your promotional theme. For instance, sports bars and restaurants can even add their special menu on these magnets to engage the sport loving audience.  In addition, you can think of adding game winning specials on these sports schedule magnets. Offering a discount to the patrons if your home team wins is an exciting strategy that not many sport lovers can resist.
Businesses can also offer free sports  schedule magnets of their home team as a token of appreciation to their community. It will create a strong customer loyalty in the long run and will reinforce your local presence.
Available in a variety of sizes and shapes, our premium sports magnets are perfect for any business! No matter whether you wish to promote and support your local team, advertise your sports-themed event or raise funds, these attractive magnets will make a great choice. The best part is that sports fans will retain them as keepsakes for years to come during which your brand will make consistent impressions.
Win or lose, fans will always support their favorite teams with loyal passion. Customize custom sports schedule magnets into something they'll look at and use all season long. Whether it is  a tagline, mascot or artwork, think of an interesting customization tip to make sports schedule magnets the talking topic of your recipients. Sport magnets will offer marketers an incredible opportunity to  interact with their clients all season long; and make leads and better brand awareness.
Interested in making custom sports magnets your promotional merchandise? Browse our collection to choose a model that will match your promotional needs.