Baseball Sports Schedule Magnets Will Make Your Promotions Last Long
Posted by Cmagnets
Posted on February 17, 2020
Baseball sports schedule magnets are infinitely popular! Sports fans keep their eyes glued to these to keep a track of their favorite teams' game days. The best part is that your customers will be looking at them long after the season is over!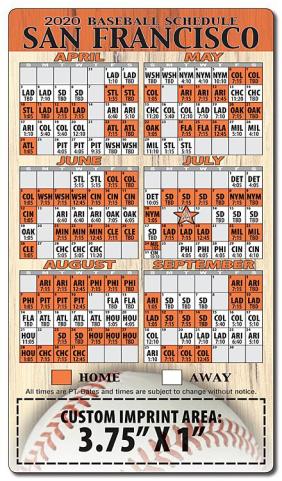 Even after the games get over and ball parks get closed, the one thing that will remain on the desks and fridge doors of the baseball fans are these sports schedule magnets. People typically retain  magnets for a long time and this is what makes refrigerator magnets a great choice to promote your business.
Whether your recipients use these sports schedule magnets  as nice little way to hold up their reminders and shopping lists or as sports souvenirs, your information imprinted on sports schedule magnets will easily outlast the season.
Make your brand part of the team pride of your sports fans with these logo items. It will put your brand in the same league as the fans and they will be happy that you are cheering along with them. Sports is universal and it doubles up as passionate way for people to know each other and discuss many other topics in this world including business!
Your recipients will be the strongest fans of your brand
Magnetic baseball schedules will make a smart marketing item that will be a winner both on and off the field. Highlight the sporty brand profile and creative a positive brand impressions with these custom magnets that will get your recipients root for your brand along with their favorite team!
Featuring your logo on baseball sports schedule magnets make a subtle yet effective way to connect with the sports loving community. As the baseball season picks up pace, the games get better and your business message will get more attention than never before. It will indeed stay on top of the minds of your audience for a long time to come.
Baseball sports schedule magnets are cost effective and visually pleasing; your customers will find it hard to resist these full color magnets. We have a complete line of baseball sports schedule magnets that will help you to score a home run with your customers. Check out our sports schedule magnets today for the best promotional products for your business.
You can use it to promote local baseball teams to raise funds for booster clubs and as mailer items among others. No matter how you choose to exploit the tremendous promotional potential of custom baseball magnets, you get the maximum value for your promotional budget with these logo magnets.