Sports Schedule Magnets- Spread The Game Schedules And Your Message Alike
Posted by Cmagnets
Posted on February 14, 2020
Most advertisements like flyers and pop-ups end up as distracting and boring publicity materials that most people will find irritating. They don't even read most marketing materials and shun the thought of having to put up with countless telecalls. This is what makes custom sports schedule magnets a cut above the rest. These will offer the audience something they'll actually benefit. So, it works both ways. While it keeps the audience up-to-date with the baseball game schedules, these logo items will also spread your marketing message making it a perfect win-win!
Considering the fact that more than half of Americans are baseball fans, these promo items that keep giving are the best handouts that you could think of! Every time you hand out a sports schedule magnet imprinted with your brand and message, you get a lot of leads. Even if you set out on a large scale mailer campaign with these as lumpy items, you are rest assured of getting a lot of hot leads.
Your recipients will not only keep these sports calendars with your information, they'll actually use them.
Make community connections
Sports schedule magnets make community connections and help you to maintain your brand identity. When your brand gets associated with the local community, your brand popularity increases manifold.
Custom Sports Magnets will help the marketers to show their clients on how they value them. When you put your brand on the magnetic sports schedules you are setting up a local presence and are not just advertising. A connection with the audience is made when you hand these out to your audience while your message gets a lot of attention from a marketing perspective; which may even help you get more leads and sponsorship opportunities.
What makes sports schedule magnets effective?
Sports magnets are budget friendly and practical and these can be placed on fridges, lockers, filing cabinets or infact any other metallic surface. Thus sports magnets enjoy more visibility than customary advertisements like business cards, which remain hidden in wallets or brochures, which get discarded sooner than you expect!
Custom magnets are tons of fun and colors. Not many people will remove the magnets from their fridge doors, which makes promotional magnets a high visibility tool. These are great  mailer items as well thanks to its light weight and compact design.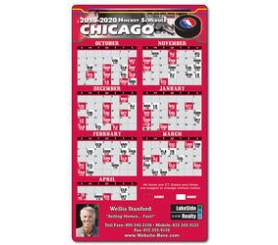 Sports magnets make long-lasting impressions even beyond the sports season because your clients will love to retain these as sports souvenirs. Incredibly potent as marketing tools, sports schedule magnets always remain visible. Imagine the exposure your brand will get every time  your recipients open their refrigerators ( which can happen 15-20 times a day) . On a rough estimate, custom magnets will make around 5500 impressions every year!
Sports schedule magnets are born crowd pullers. Your recipients and anyone who sees these magnets will hover around these full color magnets to see when their favorite team hits the sports grounds. You can customize these with your brand, message and tips to make it even more interesting and engaging. Be it CPR tips, kitchen conversion units, emergency home care service tips and more, you can think of enhancing the value of the magnets with some useful information. It will make another reason for your audience to glance at these magnets.
You can think of a creative way to highlight your business on these versatile magnets that can be effectively used to promote all types of events and promotions. Need some ideas? Our team is always available to help.