What Makes Custom Labels Great Branding Tools – Must Read
Posted by Cmagnets
Posted on August 29, 2020
A company's brand campaign is aimed at making a reminder for your business and engaging the curious consumers. If you're looking for easy, effective and budget friendly marketing idea, custom labels will make a great way to get your message out into the world.
Labels can be used on bottles, cans, packages and more. It makes a versatile branding option. The primary objective of labels is to draw the attention of the audience. A visually appealing label will be the most tempting factor for customers to reach out to your food can or the food packet in a super market shelf.
Your high quality product has its own selling point, however you need an attractively designed label in seeking the attention of the potential consumers. Take your branding to the next level with a creatively customized label that will engage your audience with your brand easily.
Custom labels are non intrusive. Though these remain in plain view of the audience, labels are rather considered as part of the packaging than being an advertisement that is on their face! Stickers enhance the visual appeal of your product packaging and enhance its professional look.
Stick Them Anywhere
Labels not just look good on your products, these can even be handed out to your customers during mailer campaigns. Your recipients will love to stick a brightly colored labels  on their laptop, fridge door or study desks to add a bit of flair to the bland spaces. Your brand name will this get a bigger publicity and visibility
Custom bumper stickers are hugely popular. Designed to last on car bumpers, these little stickers hold the power to take your brand far and wide. Not just on car bumpers, these cute stickers will look good anywhere!
Custom labels for Products
Custom labels are not just for labeling products; these can be used to share a little extra information with your audience. Promote a good cause, add a seasonal flair or share some facts about your new products. Options are all yours when you have versatile publicity items like stickers on hand.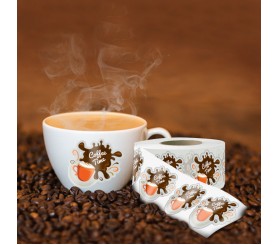 Eye-Catching
Available in a palette of brilliant colors and various shapes and finishes, labels will enhance the appeal of your products package quite easily. Choose labels with matte or shiny finish that are available in circle, square, oval and rectangle shapes.
Share the post and be social.