10 Ways To Use Custom Magnets in Business Promotions
Magnets printed with your brand and message will make a key marketing material. Many people consider it  as décor items. However, custom magnets are an affordable and memorable way to promote brands, spread awareness and even raise funds for social causes .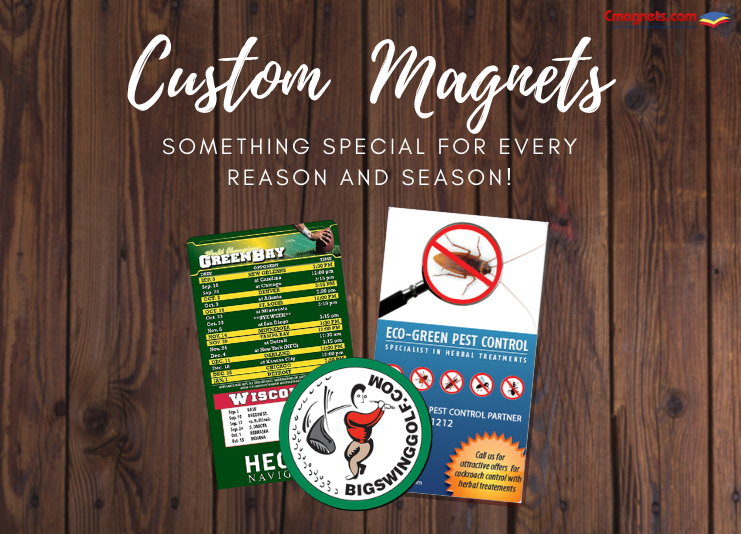 Why custom magnets
You will be quite surprised how these nondescript magnets can do so much more for your business than you can imagine. Here are 10 proven ways custom magnets enhance your branding campaign and bring in lasting results.
Build brand identity
Leave a lasting impression in tradeshows and business events with custom magnets , printed with your message or even corporate colors. It is indeed a smart way to make the attendees identify your business, and even talk about your brand.
Promote customer engagement
People will stay engaged with your businesses if they feel a stronger connection to the brand. Thus high visibility custom magnets make a  great way to market  your brand and make sales.
Magnets highlight your corporate identity
Easy to customize and grab easy attention of your audience, these full color custom magnets will make a great extension of your brand identity. Add your logo, message or call to action message on these logo magnets to sum up your brand identity. It will give a human face to  your branding strategy; and will make it easy for your recipients to engage with your brand.
Budget friendly
Custom magnets cost far less than most long-running conventional marketing campaigns, while offering outstanding value for your brand visibility.
Easy to customize
Make use of the generous imprint space to place your logo , message and artwork to make a high-value, low-cost way to amp up your branding and marketing.
Popular
In  today's digital era, every day  promotional items like magnets hold incredible value.Custom magnets are a way for your company to stand out and offer something novel to customers. By giving away freebies, you offer instant gratification to your clients  that will inspire them to retain these magnets for a long time.
Repeat impressions
Custom magnets make repeated impressions for your brand  during its long shelf life, which in turn will make it a tried and tested promotional swag that reinforces your brand identity to your desired audience. Because of its longevity and visibility, it greatly improves brand recall and promotes product familiarity.
Practical
Custom magnets make practical souvenirs that will earn a great display spot on the fridge doors. Designed to last long and look great, logo magnets are easy to mail out with business newsletters and statements. So, If you wish to ensure consistent brand display for your brand, a promotional magnet is an excellent way to do these things. You can get the maximum visibility of your brand for a good value.
Budget friendly
Probably what makes custom magnets popular marketing tools is its ridiculously low prices . When you order in bulk, logo magnets will cost you next to nothing literally! If you wish to reach out to a substantial number of clients and business partners without having to break the bank, look no further than custom magnets!
High visibility
The best part is that these full color magnets will make their way to the fridge doors and filing cabinets where it will remain for a substantially long time, during which your message and artwork will get a incredible display at one time investment. In addition, your recipients will have your contact details right in front of them. So, they know exactly how and where to get in touch with you.
Have a better ideas to use custom magnets in your promotions? Share your ideas with us in the comments section below.