How Realtors Can Use Calendar Magnets In Their Promotions
Posted by Cmagnets
Posted on November 13, 2020
Calendar magnets have long been a standard of real estate marketing. Whether it is as end of the year giveaways, New Year handouts or mailer items, calendar magnets make great handouts  during the holidays. What makes calendars so very popular? Firstly magnetic calendars are useful for the prospects to stay on top of their days and dates.
Here are some of the other benefits  of custom calendar magnets that you may not have thought about.
 Year long value
Not many promotional items will provide year-long value as calendar magnets. Your clients and prospects will immediately place these attractive custom magnets on the refrigerators upon receiving them.  Offered in a wide range of models, themes and sizes, calendar magnets will stay all year, keeping your name and contact information front and center.
Offered in a myriad of styles and designs, calendar magnets can be aligned with your branding theme easily. The best part is that  well customized magnetic calendars will  end up as collectibles even after the year ends. Thus your brand and message will get an extended exposure or a longer spell.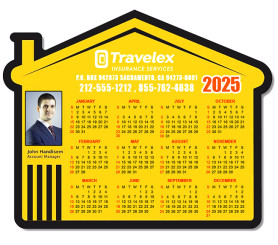 Real estate calendars will make your brand the first in the home of your recipients. Change of year is synonymous with custom calendars and everyone will cherish the idea of an attractive magnetic calendar to start their year with while your message gets a keen audience.
Easy to distribute
Light weight and compact, calendar magnets are easy to distribute during open houses, real estate business events, trade shows etc. you can even mail it out to everyone on the mailing list without breaking your budget.
Cost effective
Calendar magnets are budget friendly handouts that will fit any promotional plan of yours. Ideal for small and medium  businesses  and budget promotions, these logo items will win hands down as mass promotional giveaways sans parallel. So, if you wish to increase your leads and enhance your brand image, look no further than these full color custom magnets.
Popular
Customized magnetic calendars  make happy customers and referral leads like most other promo gifts. Realtors can effectively stay in touch with their previous clients on a regular basis, which in turn will have a great impact on their business.  Reports show that 83% of customers are willing to refer a company to someone else after a positive shopping experience.  Plus 80% of millennials, trust referral advertising when it comes to making investments in home or property as it involves the life time earnings for most people.
How do you plan to use realtor magnets in your campaigns? Share your thoughts