Custom Car Magnetic Signs – Earn Consistent Brand Impressions at One Time Investment
Posted by Cmagnets
Posted on April 22, 2021
Looking for a high visibility billboard that promotes your brand on one time investment? Or may be a promotional tool that keeps giving back to you without any repeat effort from your end? If yes, you should consider car magnetic signs as your promotional swag  this season. Outdoor safe and easy to attach to the cars doors and vehicle bumpers, these full color magnetic signs  will get your message across  around the city and take it to a larger group of people.
Car magnetic signs are effective to build up a buzz among the audience and get them engaged with your message. These full color vehicle magnets make a budget friendly way to advertise your business in the best possible manner. Visually appealing and hard to resist, these attractive full color custom magnets are a rage these days.
Versatile and highly effective to spread the word, magnetic signs are well suited to promote all types of business niches right from schools to salons and super markets .Customize these with your brand, call to action message and artwork to make it a highly compelling billboard for your business.
These factory direct magnets are not only weather resistant but also UV resistant, which means that your message and design on these magnetic signs will remain as vibrant as new for a long time. Every time your business vehicles sporting these full color magnetic signs are driven around the city. a lot of people would take interest in your product.
If you are planning a target promotion in a specific locality or audience group, custom magnetic signs will make a great choice. All you need to do is set the route along which your business vehicle has to go around to get all eyes on your message. Outdoor promotions cant get better than these signs that are traffic stoppers in their own right. Ensure that the message imprinted on the signs  is readable from even a distance so that there will be more chances for your audience to understand your message.
An interesting logo and tagline will play a key role in engaging your audience with your brand effectively without being intrusive. Good quality images and artwork that sums up your business will convey the message quickly and effectively than text. Put on your creative caps to come up with whatever it takes to make your magnetic signs different from the rest of the promotional signs that people may be seeing. A well customized magnetic sign will stand out nicely and make a unique reminder of your brand.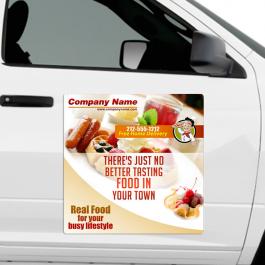 Are you planning to invest your promotional dollars on magnetic signs this season? Share your thoughts with us on our facebook page