Custom  Magnetic Calendars for Advertising
Calendar magnets have always been popular handouts during trade shows, store promotions and mailer campaigns. These high-quality magnetic calendars make value added gifts that your audience will never overlook. The dual utility of  a calendar and a magnet, will ensure extra return for your investment. Designed to remain in plain sight in strategic locations like fridge doors or filing cabinets, these logo magnets are incredibly popular among everyone who happens to see it.
Each time you hand out custom magnetic calendars, you can be certain that your recipients will put it to use. Calendars are everywhere and these are constantly visible. Every time your recipient takes a closer look at the days or dates, they will have your business in mind.
The number of ways in which calendar magnets can be used is innumerable. Keep them at the cash register for your customers to take it, include it in gift bags at fund raisers or make these part of your corporate event. The light weight and compact shapes of these magnets make it easy for marketers to send these logo items by mailers. These won't take up much storage space and hence can be used in a variety of different marketing events.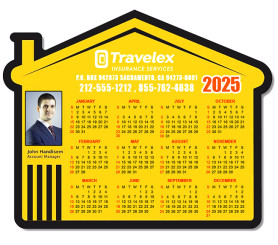 While calendar magnets are highly useful, the potential reach for these logo products is even more exciting. The marketing potential and quality of magnets make these an ideal choice for your next marketing campaign.
Choose calendar magnets in various sizes to suit your promotional needs. Get it imprinted with your business name, address, artwork or logo to make it unique without being overwhelming. The more the calendars are ordered, the bigger the discounts will be. So, if you are planning a mass promotional campaign, ordering in bulk will make a smart way to get the maximum price advantage.
These high quality promotional magnetic calendars can easily be affixed on any metallic surface to make it a constant brand reminder for a whole year!  You can use it in countless ways. No matter whether you prefer to use it as mailer items, trade show swag, announcement magnets or store promotional items, you are rest assured that your message will remain right in the eye span of your audience 24 x 7 for a whole year and even more.
Affordable, effective and above all versatile, calendar magnets make effective marketing tools of good value. These are highly effective because very few people ever throw these away. Gain easy attention of your audience and improve their brand recall by using custom calendar magnets as your promo items.
Have a better idea to use custom calendar magnets in your promotions? Share your thoughts with us on our instagram page to join a interesting conversation.