Custom Picture Frame Magnets Never Fail To Impress
Custom picture frame magnets are great custom giveaways; because they add a personal touch to the spaces and deck up the bland fridge doors. The best part is that these full color custom fridge magnets occupy a prime real estate on the fridge doors and filing cabinets. So your recipients are able to view your message every day and every time they open the fridge. What's even better is that you can print not just your message; but artwork and designs as well!
Photo magnets are cost effective and fun to customize. The best part is that you can print anything on these magnets, not limiting to only your logo or message. You can even make it more value added by including kitchen conversion charts or event calendar to it.  Your recipients will have yet another solid reason to look at your logo magnets
High visibility
Custom picture frame magnets make a great reminder of your brand and event. Nobody can resist these fun themed colorful custom magnets that will grab the attention of not just the primary recipients; but anyone who sees it. A well designed magnet will even make a great conversation topic for your audience, which in turn will create the much desirable word of mouth publicity for your brand!
Easy to use
Everyone will be excited to get these picture frame magnets for free as they don't take up much space. Moreover they look cute on the fridge doors! Thus marketers will find these logo magnets a great way to promote your business to show customer appreciation while displaying their contact details. 
High visibility
Custom picture frame magnets offer the dual advantage of a refrigerator magnet that pops out and an outer picture frame that will ensure a beautiful display of the favorite photos and memories of your recipients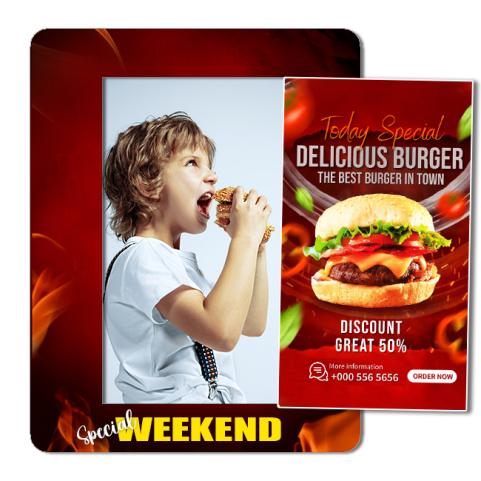 Choices galore
Custom picture frame magnets are available in a wide range of shapes and themes, which make it easy for marketers to choose a model that will match their promotional theme. These full color magnets are a delightful way to stay connected with your customers and prospects. Apart from being a budget friendly advertising solution for businesses, they also make a functional gift for clients that literally stick around!
Are you looking for a creative marketing solution  for your businesses that drives ahead your brand popularity without being intrusive? Look no further than custom  picture frame magnets. Most people love to have magnets on their refrigerator. It often doubles up as a handy way to display children's artwork and weekly shopping lists among others. 
Versatile
Custom picture frame magnets are not just for promoting businesses but make ideal handouts for schools. It is a fun and engaging way, your kids get to learn to recognize everyone in the family! Available in a wide range of interesting shapes, picture frame magnets work better than business cards to showcase your business information.
So, how do you plan to create picture frame magnets for customers to share memories and keep your contact information on display ! Share your ideas.