How Custom Magnets Can Make Your Brand Popular
Custom magnets may not ring a bell as a possible marketing tool atleast for some marketers. However, these interesting promotional merchandise will make your brand stand out in today's world of digital promotions.
If you are still in double minds, here are 7 main benefits of using custom magnets that will give you some clarity.
Magnets Provide Real Value
Magnets are something everyone loves to get. Apart from being a fridge décor item, it will make a handy way to keep shopping lists for some; while they make excellent collectibles for others. Thus, in custom magnets you have a popular marketing item that will impress every genre of audience, irrespective of their age or demographics.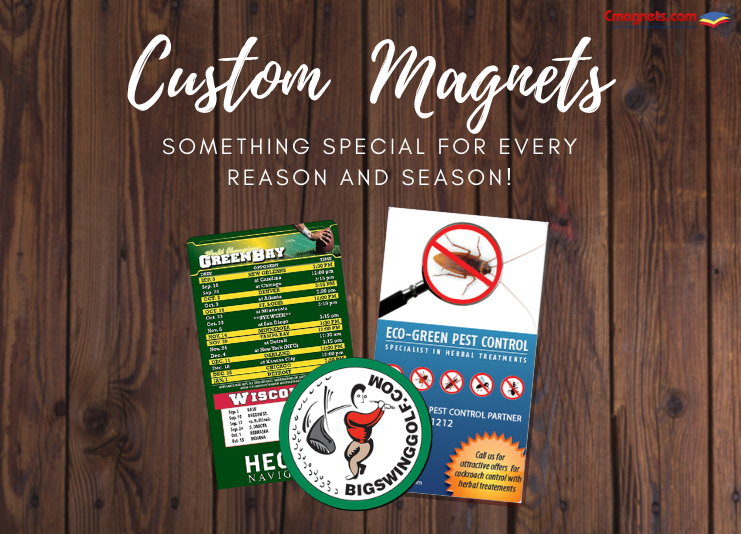 Magnets enjoy daily exposure
Full color magnets in various shapes and sizes are born crowd pleasers alright. A good custom design will further enhance the appeal of these giveaways. Make sure to leave a solid, and professional impression in the minds of the audience. Magnets are easy to customize to complement your company's aesthetic and values. In a way, a trendy magnet often doubles up as a business card, with a much greater potential for utility and personal engagement.
Magnets Aren't Easily Replaced
Magnets are rarely displaced and often end up as collectibles and fridge décor items for your recipients Thus when you customize magnets with your company's logo or corporate colors, it will make a perfect representation of your brand for years to come.
Incredible Visibility
There are not many custom giveaways that are more visible than custom magnets! When used to its full extent, logo magnets serve as a piece of advertising that your clients will see many times- every day potentially for years to come.  These will stand out easily from fridge doors to draw easy eye balls of people around and not just the primary recipients.
Magnets are cost effective
Magnets are inexpensive, making them a perfect choice for budget friendly promotions. Logo magnets make an effective promotional product that wont hurt your bottom line.  By buying in bulk, you can further reduce the price and stretch promotional dollars further. In addition, it is hard to over these full color magnets as they deck up fridge doors . Thus your message on these fashionable magnets will get incredible exposure.
The low cost advantage of custom magnets makes it a great choice for mass events like trade shows. Even if you order logo magnets in bulk for  your next conference, you won't break your budget.
Magnets are highly visible
Magnets enjoy a high visibility and it is hard for onlookers to pluck their eyes off these full color magnets. Thus it is an easy way to get your message out there and draw the undivided attention of your recipients towards your message.
Magnets are versatile
The best part of custom magnets is that they are versatile and can be used as promotional giveaways, mailer items, fund raising items and more. Thus marketers can customize logo magnets to suit any promotional setting. The best part is that every genre of your recipients will love these logo magnets. So, it will make a popular handout to engage any type of audience. If you are looking for a  cost-effective way to boost brand awareness, create loyalty, build customer recognition, look no further than custom magnets.

Interested in making custom magnets your swag?  Browse our collection to choose a model that will fit your theme.