How Custom Magnets Turn Subscribers Into Customers!
If you really want custom handouts that turn your leads into customers, look no further than custom magnets. We are a one stop shop for a range of custom magnets in all possible price rates. So, if you don't find a magnet model that you are looking for, here, you are unlikely to find it anywhere else!
Here are some of the popular models in promotional magnets that you would find interesting
Logo  Car Magnets
Imprinted car magnets are a great way to add a pop of color to the cars and make it stand out. Just stick it and take off just as easily without damaging the surface of the vehicle. Designed to last long and look great, these UV resistant outdoor magnets wont get knocked off when the car is moving at a high speed.
Whether you want to promote your brand,  event, political campaign or something else, car magnets will take your message far and wide and make consistent brand impressions at one time investment. It makes a budget friendly and cost-effective means to get your message to the world.
Custom Indoor Magnets
Indoor car magnets can be everywhere. Right from the tool kits in the garage, to fridge doors and filing cabinets, these full color magnets will enhance the visibility of your brand while adding beauty to the spaces of your recipients. Sturdy and extra thick models like 55 mil indoor magnets can be used for warehouse labeling and similar purposes as these can withstand heat and the harsh elements in factories and business premises.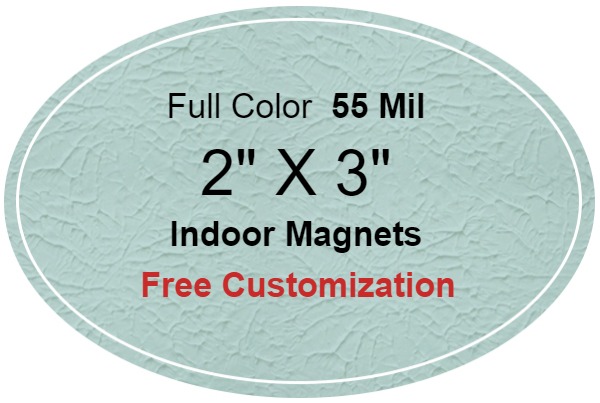 Refrigerator door is a great place for indoor magnets. It will add a fun pop of color to the bland door surfaces while offering a creative canvas for marketers to place their message and logo. Choose from a wide range of interesting models like calendar magnets, picture frame magnets, sports schedule magnets and a lot more.  Made in USA and from high quality magnetic stock material, these magnets can easily pin up reminders, snap shots and  menu of  your recipients.
Save the Date Magnets
Make sure that everyone on your list of attendees makes it to your grand opening, wedding parties or infact any event that you plan to organize. Your guests who stick these save the date magnets on the fridge can easily keep a count on the days till the event and will never forget your important day.  Customize these full color magnets with your design, tagline or artwork to create a personalized  save the date invites and reminders that will never get overlooked.
We have a lot more in our collection. Just let your fingers do the shopping and see how these custom magnets will make your promotional events brag-worthy for a long time! Need more tips? Don't hesitate to give us a call. We're here to help!