Imprinted Note Pad Magnets –Get Dual Brand Exposure At The Cost Of One
Offered in various sizes and shapes, these trendy full- color, custom notepad magnets will make its way to the fridge doors of your recipients. Easily accessible, these magnetic paper pads will be  a handy option when you want to jot down the weekly menu, shopping lists or reminders. No matter how your recipients choose to use it, these logo magnets will get a lot of attention and appreciation. The best part is that every time your recipients need to reach out to you, they know where to find you!
Printed magnetic notepads are one of the most popular promotional products that companies choose as business handouts even in this robotic world. Just think about the exposure your brand imprinted on it will get on any given day. Whether your recipients need to note down urgent notes, phone numbers or  a quick shopping list, custom notepads will make a convenient handout .
Ideally the best promotional products are the ones that promote your brand while handing out something useful for your audience. Magnetic notepads tick all the boxes of a handy business handout for the high utility that it offers. Everyone will find these items useful at work or at home, which in turn will ensure your brand an incredible visibility.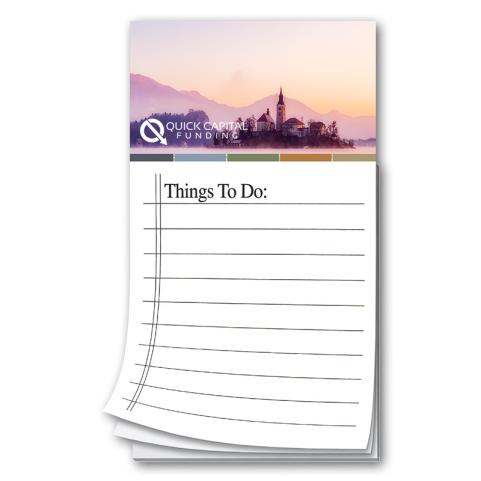 Printed Notepads are low cost handouts perfect for small businesses looking to giveaway something which will have great impact among the audience. Ordering in bulk will help you get the best price advantage and  enable you to stock up for all the upcoming events and promotional situations.
Custom magnetic notepads offer incredible customization possibilities to highlight your brand and message in a dramatic way . Offered in various sizes and models to suit your business campaign, custom magnetic notepads offer an infinite realm of possibilities with the design. A vibrantly designed notepad will pique quick interest as opposed to a standard white notepad and will grab easy attention of everyone around. Every time your recipients use the notepad to scribble or doodle, they will be engaged with your brand and message in a subtle yet effective way.
Everyone needs notepads in their everyday lives to stay organized of the countless mundane tasks they handle.  When you handout something useful like a notepad to your clients it  saves them from spending money to buy one for themselves. Versatile and popular across all age groups and demographics, custom notepads will get your message into the homes and hearts of your prospects and will add a personal touch to your promotions.
How do you plan to use custom notepads in your branding efforts? Join an interesting discussion with us by sharing your ideas with us on our facebook page.