Popular Custom-Printed Magnets and its Creative Uses
 If you are looking for a subtle yet powerful way to boost branding, custom printed magnets will make a great choice to gain visibility in high-profile, high-traffic zones. Ideal for all types of businesses, custom magnets make a budget friendly handout to drive up brand visibility and market outreach.
Whether you want to promote your new business, an upcoming event, or raise funds for a social cause, magnets will make a perfect choice. Impossible to ignore and easy on your wallets, custom magnets will add a lot of interest to your promotional campaign!
Here are some popular models in custom magnets that can be considered during your marketing campaign
Business card magnets
Business card magnets will earn a prime display spot on refrigerator doors, magnetic display board, or other metal-based surfaces. Easy to apply and remove, magnetic business cards  will double up as a smart way to pin up reminders and shopping lists for your recipients.
 Humorous magnets
Who doesn't love a good laugh and a magnet imprinted with witty one-liners and jokes? Printing fun quotes will make your business cards a cut above the rest. Use it as mailer items, giveaways with purchase or stocking stuffers.
 Save the Date Announcements
A save the date magnet can be sent to make sure of your guests availability for your special event before sending out the actual invite.  These full- color save the date magnets will easily remind your guests about your big day, even after they have RSVP'd. These make great event souvenirs as well that will be cherished for a long time.
Picture frame magnets
While your prospects can display their family photos in magnetic frames your logo imprinted on  these picture frame magnets will get a wide angle display for a long time to come. Win-win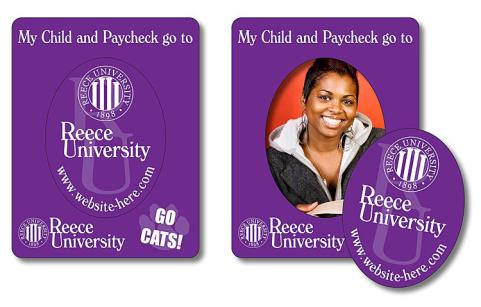 Calendar magnets
 A handy postcard-sized calendar magnet is a convenient way to display a year-long calendar. Your recipients will find it useful as an easy point of reference while your message will stay in front of your key audience for a whole year.
Car Magnets
For advertising on-the-go, choose car magnets! Offered in a range of shapes and sizes, these full color car magnets will elevate your design and make a lasting impression. These can be used for advertising businesses like home maintenance services, food delivery, gardening services and a lot more. In political campaigns, car magnets can be used to popularize the candidature or encourage people to vote car magnet will make a great way to go about!
Now for some industries that can use custom magnets effectively in their promotions
 Restaurant Delivery Services
Take outs make a perfect option for dinner on a lazy weekend for most people. Customized magnets will remind your customers of your food delivery services and encourage them to make a call.
 Real Estate Agents
Real estate is a highly fluid and competitive niche, where standing out is what makes or breaks the game. Refrigerator magnets are an essential promotional item to spread the word and announce new projects .By passing out business card magnets you can stay in plain view of your audience , which in turn could  make leads. Your name, and maybe even your logo or face will become familiar after a few days time. Choose unique models like house shaped magnets that align with your business to make it easy for your prospects to remember you. Next time when they think of a new home, your name will come to their mind in a flash.
Auto repair services
At some point, everyone needs a reliable mechanic to keep their vehicle in top shape. Your business card magnets will indeed make a lasting reminder of your services to your audience.
 Coffee Shop
The best way to tell your audience that you serve the best coffee in town is undeniably these full color business card magnets. The design can include your logo and a nice coffee quote to make it all the more interesting. Choose from a rage of models and shapes that sum up your business theme with ease.
Can you think of other uses for custom-printed magnets? Do share with us on our facebook to join a discussion