House Shaped Indoor Magnets – Great Handouts For Property Professionals
Posted by Cmagnets
Posted on February 4, 2020
Realtors need to get the promotional message stick with their audience to set off referrals  and the much desired word of mouth publicity.  Buying a home is a very important decision for most people as it involves the bulk of their life time savings.  Home owners cannot afford to make any mistake in choosing a realtor to get their deals through- and that is what makes referrals  important .
Reports show that most first time home owners rely on referrals from reliable sources like friends or extended family members in finding a realtor.
Indoor real estate magnets make a great way to put your message in plain view of your audience. These attractive, full color, custom house shaped magnets will earn a permanent spot on the fridge doors and filing cabinets of your recipients. Reports show that on an average, a user opens the fridge doors 15 times or more in a single day. Every time they do so, these house shaped magnets that bear your message will get their undivided attention. This happens many times a day, which in turn will make consistent impressions.
There can't be another advertising method as magnets that can captivate your audience 15 times a day! The best part is that your recipients will retain these magnets for a long time to come.
Refrigerator magnets have one of the lowest costs per impressions as well. At a price of just a few cents, these custom indoor magnets can tirelessly promote your business and services  than many other conventional advertising methods. The big plus- Magnets ensure an ROI that is unheard of elsewhere! If you are looking for a sure fire realtor magnet, 3.5×2.5 Personalized House Shape Magnets 20 Mil will make a great choice to consider.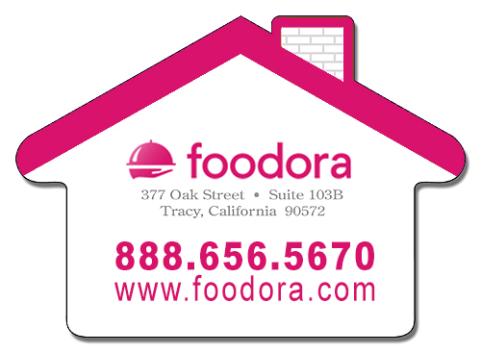 What makes house shaped magnets a great choice
Though the basic aim of promotions is to inspire or inform the customers, the best advertisements should be subtle and interesting and devoid of the nagging business pitch. Magnets are a great way to market who you are all the while taking the audience into  confidence. Refrigerator magnets can boost your brand image and bring in leads and more referrals.
Why Referrals are important
Happy customers bring in valuable referrals. Popular promotional handouts like refrigerator magnets can increase the referrals you get.  Consider this statistics. 88% of people can remember the advertiser on a promotional product. So it is natural that they will be  happy to share their positive experience in their social circles, thereby taking your message to a wider and new audience  group.
Interestingly, reports show that 91% of promotional products are used in the kitchen. So, your branding on a refrigerator magnet will undeniably get a lot of attention for sure. Every time they notice your brand, they will become more affable to your business. Next time when they need some products or services, they will instinctively think about your brand.
So, what are you waiting for? Drive home your message effectively with these house shaped magnets that will take your brand closer to the hearts and homes of your audience!