Photo Magnets – Fun Way to Display Photos and highlight your brand!
Posted by Cmagnets
Posted on September 17, 2019
Photo magnets are popular and fun way for most people to display interesting photographs and decorate homes and offices. Customize these magnets with your message or artwork in full color to gain easy attention.
What are Photo Magnets?
Magnetic photo frames are magnets that double up as photo frames.  Nobody can overlook these full color magnetic photo frames that will add a pop of color and fun to the spaces and will put your brand on a wide display.
Custom photo magnets can be used   for various purposes
As home decor: Bring cheer to the plain spaces and barren fridge doors with these full color magnets. These can be placed on cabinets, kids' lockers, metallic doors and other ferrous surfaces. Magnetic photo frames are an inexpensive way to get across your message and enhance the aesthetic appeal of spaces.
As referral items
Offered in a wide range of popular shapes and sizes, custom magnets can be easily matched with the theme of your promotions and marketing strategy. These high visibility magnets will get a lot of attention and your brand imprinted on these will get the spotlight!
As calendars: Picture frame magnets with calendars will offer the dual advantage of a calendar and a picture frame at the cost of one. Every time your recipients take a look at the calendar or cherish their images, your brand and message will get a lot of attention. Magnetic calendars can make their way to the high traffic zones like study or living room in every home and your brand visibility will go manifold.
Car magnets: Stylize your car with beautiful car magnets, used as car body graphics. Photo magnets can also be used in car interiors or on business vehicles as well, for advertising purposes. Picture Frame  Outdoor & Car Magnets 35 Mil: UV safe, fade resistant and water repellent, these outdoor magnets will grab easy attention of  the road active audience. While your recipients have a cute and delightful picture frame to show off their sports passion or pets, you get a high visibility billboard for your business.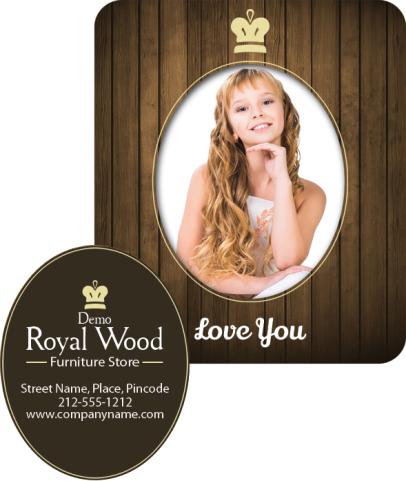 Holiday magnets: Turn your holiday memories into long lasting magnetic impressions. Your recipients can place these on refrigerators or cabinets to refresh those exciting memories more often.
Save the Date magnets: Photo frame magnets can be used as save the date invites for weddings, birthdays and anniversaries. Your guests will never forget your big day as they see these full color magnets every time they open the fridge doors! Can there be a better way to ensure a full attendance for your event?
Are you planning to use picture frame magnets in your promotions to ensure brand promotion without the annoying business talk?  Share your thoughts