Different Types Of Promotional Fridge Magnets – Must Read
Posted by Cmagnets
Posted on February 7, 2020
Every house in America has a refrigerator these days; most homes have more than one fridge for their bar, kitchen and living rooms for stocking up different products. On an average people open their  fridge doors 15-20 times a day to fetch drinks and grubs, to put back supplies, simply out of habit or may be check out what's new in the pastry counter!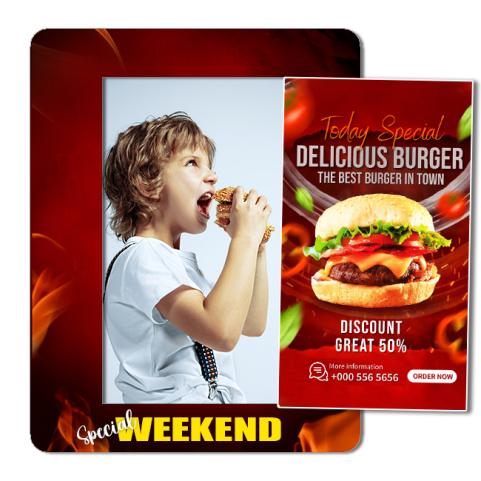 Promotional refrigerator magnets enjoy a great level of visibility and utility. Not just fridge doors, these will look great on filing cabinets, study desks or infact any metallic surface. Magnets have a timeless charm about it. Everyone will love to have these full color magnets on their fridge doors. Apart from dressing up the bland fridge doors with a pop of color and style, you can use magnets as a handy hold up those little reminders and shopping lists!
Customized fridge magnets make attractive billboards for your brand and unbeatable fridge décor items that set off interesting conversation among your audience. The best part is that custom magnets seldom get replaced unless people change their refrigerators!
Promotional fridge magnets are classified according to the size, shape and utility. Here are some popular models that can be considered during your promotions
2D PVC FRIDGE MAGNETS
 Soft, durable, kids safe and great for promotions and marketing events, 2D PVC fridge magnets  made of polymer plastic are hugely popular. Being highly flexible, these magnets can also be affixed to uneven surfaces. They usually come with 2 dimensional images that remain clear and readable for a long time. These magnets make great fridge décor items that will appease both kids and kids at heart.
 FERRITE MAGNET / CERAMIC FRIDGE MAGNETS
It is a budget friendly solution for users who require magnets to cover a large surface area. These can be used in areas of high temperature applications due to their excellent resistance to high temperatures. These magnets that can be made in different colors and sizes to your order make great party favors, fridge décor items and magnetic souvenirs
PAPER FRIDGE MAGNET
Made of medium density fibreboard, these multipurpose magnets can be imprinted with images or quotes in full color digital printing. Great for refrigerators, white boards, lockers, or any other surface magnets can stick to!
STANDARD ACRYLIC MAGNETS
Standard acrylic magnet is another variant in refrigerator magnets. Made of sturdy acrylic, acrylic magnets offer lasting advertisements and extended promotional results. These offer the advantage of multi color printing and laminated finishes. The outstanding durability and brilliant color choices make these magnets exceptional.
GLASS FRIDGE MAGNETS
Made of durable crystal glass and soft magnet these make great party favors and holiday gifts, Customize these magnets with pretty patterns to add beauty to your refrigerators, air conditioners, washing machines, magnetic boards etc. Leave a message to family or use it as a decorative item. Not suitable for small children.
SILICONE FRIDGE MAGENTS
Made of sturdy silicon, silicon magnets are available in various creative shapes. These crowd pleasing magnets will add a pop of color to the fridge doors and make a great décor piece.

ULTRA THIN MAGNETS
 Budget friendly and eye catching, ultra thin magnets will look good on every refrigerator and are loved by every genre of audience.  The thinnest magnet comes at a size of 0.5ml thickness. Ultra thin magnets are easy to carry and use as mailer items. As they remain sleek and close to the surface of the fridge surface, these may resemble stunning stickers! Made of strong magnetic stock material, these will remain firmly affixed on to the surfaces strongly for longer periods.
SILICONE RUBBER FRIDGE MAGNETS
Cute and colorful, silicon rubber fridge magnets are long lasting and can be imprinted with 3D images and text to give it a dramatic effect. These make great decorative pieces for fridge and can hold notes or photos on whiteboards; refrigerator, bulletin boards and other magnetic surfaces. A perfect gift for kids, teens, and adults.
PERSONALIZED FRIDGE MAGNETS
Fridge magnets have a very long retention during which they make countless impressions and assured ROI for you. Magnets are available at prices started only a few cents, which makes these affordable for star up companies and budget marketers.
Offered in various sizes and thicknesses, promotional fridge magnets come in various models including die cut magnets, calendar magnets, business card magnets, sports schedule magnets save the date magnets, picture frame magnets and a lot more!
Now that you have a sound idea of the various types of magnets, you can easily choose the most appropriate model of Refrigerator magnets for your needs.