Tips on Using Social Distancing Stickers At Your Premises
Posted by Cmagnets
Posted on April 21, 2020
Social distancing has become a new way of life for everyone in the wake of the pandemic to slow the spread of germs. Social distancing is something that we are not used to. So, at times, we all may have to be reminded how important it is to keep a safe distance from one another. Public places like malls, doctors' clinics, banks and pharmacies can all use custom stickers to mark the areas for people to queue up. It is a nice way to encourage physical distancing of 1.5m-2m to prevent the risks of droplet infections.
Coronavirus can remain on surfaces for many hours and can spread to people through droplets while talking coughing or sneezing. By maintaining social distancing everyone can prevent the risks of droplet contamination.
Social Distancing Stickers encourage your clients and customers to stay safe by keeping the recommended distance from each other. Floor stickers make handy mark ups for people in public areas where people assemble.
Custom stickers are available in a wide range of models and material choices. Suitable for hard floors or  waiting chairs, these stickers can be imprinted with social distancing tips along with your logo and message.
Benefits Of Social Distancing stickers
Enhance shopping experience: Your patrons will have a positive shopping experience at your stores and may feel more comfortable and well guided
Reduce anxiety and confrontations:  Stickers will prevent people jumping their lines and indulging in confrontations and wordily duel. These simple and delightful stickers help people  stay relaxed and ensure everyone acts as they should and keep things in order.
Gentle reminders: These full color stickers make visually appealing gentle reminders on the importance of obeying social distancing rules and ensuring public etiquette and how it can save lives and flatter the Covid- curve effectively!
Where To Use Social Distancing  Stickers
Stickers can be used in any area where your customers and patrons may gather. Here are a few suggestions
On chairs in waiting areas: keeping the chairs arranged at the requisite distance will help in social distancing. Placing a sticker on the backrest of the chair makes it instantly clear to your patrons why the chairs have been arranged in this fashion and prevent people from pulling it closer. 2 Inch Personalized Circle Repositionable Paper Stickers will be a great choice. These repositionable stickers can be used again and again in almost any surface, without leaving residue. Shiny  and attention grabbing, these custom circle stickers will grab easy attention of everyone instantly.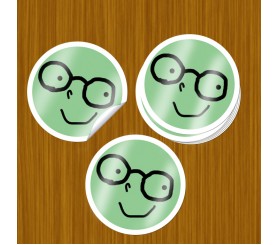 On the ground for queue lines: You can put stickers on locations where queuing takes place to easily ensure that everyone remains at a safe distance from one another. Mark the areas to make it easier for your customers to take up their positions in the queue. 4 X 6 Inch Customized Oval White or Clear Plastic stickers can be used for queue lines.  Made of vinyl material, these stickers are weather proof and color fast, which makes it ideal for a diverse range of applications.
Choose from a wide range of stickers to get across the social distancing message in your venues. These  creative solutions will go a long way in reducing the spread of virus and high light your social commitment.