June 17th To June 23rd Is Animal Rights Awareness Week- Plan Your Events With Themed Custom Magnets
Posted by Cmagnets
Posted on June 8, 2017
The month of June has some very interesting, funny and bizarre animal holidays to celebrate the different animals on earth. The week of June 17th – June 23rd has been designated as Animal Rights Awareness Week to spread awareness of animal rights by educating the public about the importance of the compassionate treatment of all animals and to stop the cruelty and ill treatment meted out to the hapless animals. Scores of animals are left to die without food and shelter every year and by spreading the awareness of events like animal right awareness week, we can make this world a better place to live for all living beings.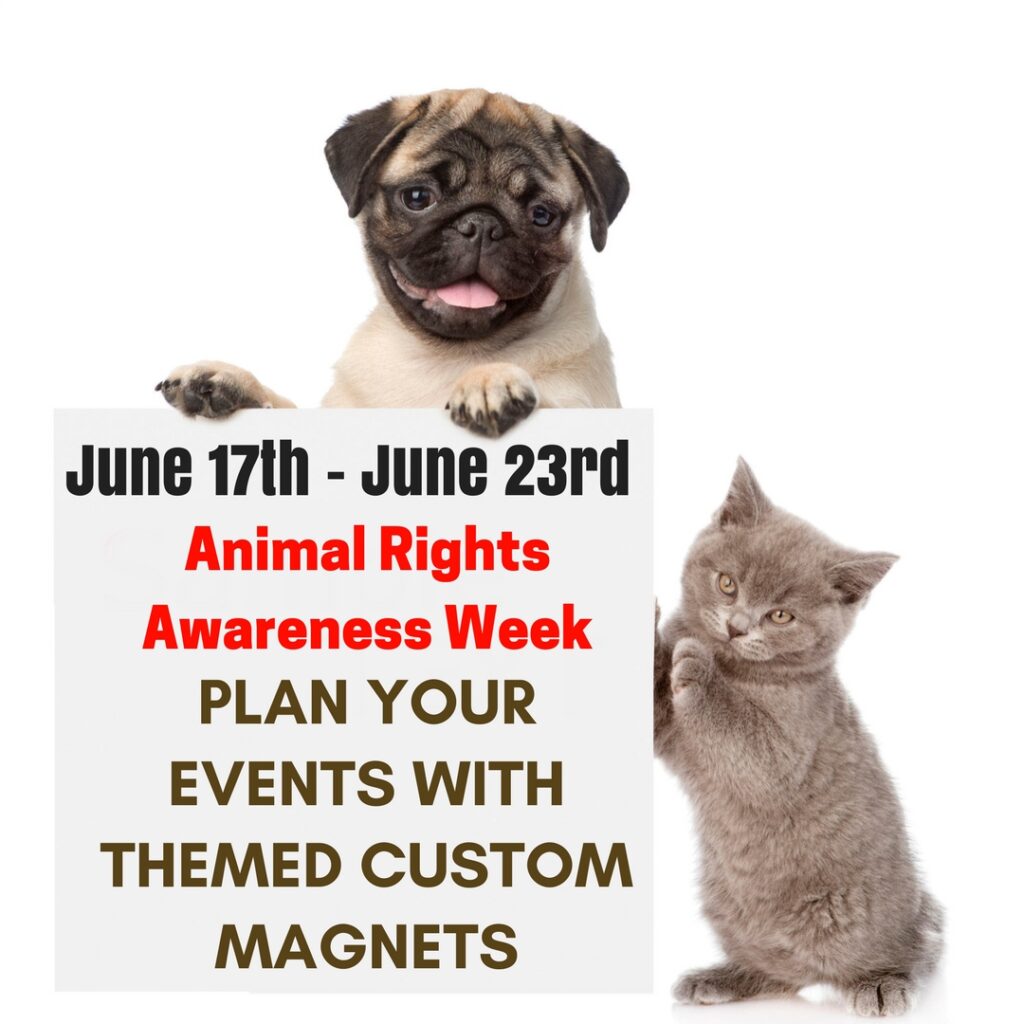 Show your compassionate profile of your brand by joining hands to spread awareness on animal rights by choosing appropriate custom handouts. If you are planning a fund raising event for non- profit organizations, pet care hospitals or more, custom magnets will make perfect handouts. Cost effective and popular, custom magnets have one of the lowest costs per impression and offer ensured ROI.
Photo Frame Pets Clinic Magnets 20 Mil Pet care clinics and voluntary organizations working for the welfare of animals can all employ these hugely popular photoframe magnets. Imprint your brand and awareness message to make a change in the lives of animals.
Pets Care Paw Shaped Magnets: The cute paw prints are the most conspicuous marks left by animals; so can there be a better way to celebrate this day than these delightful paw shaped magnets, which can be used to promote pet adoption centers, pet care clinics and more.
Bird Care Magnets 20 Mil Round Corners: This world would have been so boring but for these winged beauties that bestow us with color and the sweetest bird songs. Celebrate the animal rights awareness week with these bird care magnets and try to bring in a quality change in the outlook of people.
Shaped magnets have always been our top sellers and these Owl Shaped Bird Care Magnets are popular for the same reason. Personalize these with your brand and message and see how these logo magnets will make your message well heard and make a change in the way people treat animals.
Another interesting model to consider is Custom Dog Shape Magnets. Vets, dog breeders, dog trainers or pet groomers can always avail discount by bulk ordering this magnet. Personalize these with your brand and message and see how these logo magnets will convey your message with ease.
Wildlife Care Magnets 20 Mil Round Corners: At a time when most wild animals are facing the threat of extinction, these wild care magnets will make a great way to spread your Animal rights awareness week message effectively.
Which of these custom magnets are you planning to use to promote animal rights awareness week? Share your thoughts in our comments section.