Custom Magnets for Different Promotional Events
Custom magnets have always been proven promotional items among marketers. Available in a wide range of models in just about every price rate, logo magnets will make versatile handouts for every genre of businesses. take a look at some of these popular models that will surely boost your brand exposure without breaking the promotional budget.
Business Card Magnets
Business cards are classic branding tools for every business that have been around for ages. It is a classic way for marketers to promote their brand; and get their recipients remember their contact info. These will make its way straight to the fridge doors and will never get lost in the shuffle.
Calendar Magnets
Put your business info front and center of your audience and capture their instant attention. Your recipients will have a handy calendar on hand, which will also double up as a brand reminder. These light weight and compact magnets are great for mail campaigns as they fit perfectly in envelopes. Get 365 days of brand display at one time investment with these popular models.
Calendars are something everyone needs in their everyday life to keep track of the days and dates. So, can there be a better way than putting your brand on these calendar magnets to get the undivided attention of the users? Versatile and ideal for promotions of all types, custom calendar magnets are indeed a valuable addition to every promotional plan.
Shaped magnets
Convey your business message the best way through these unique shaped magnets. Available in a wide range of shapes right from sports items to fruits, animals and more to match your promotional theme. Your audience will surely love to show off these magnets while your brand gets its fair share of publicity.Grabbing attention is one of the keys to advertising your business, and the unique shape of these business magnets for refrigerators does just that.
Well designed shaped magnets will easily make a great conversation topic among your audience. It will complement your promotional theme and even make it easier for your prospects to remember your products or services. For instance, you can make these custom magnets in the shape of your mascot or product line. Studies have shown that human brains register shapes quickly than text. It is another reason for you to invest in shaped magnets to put your brand on top of their minds.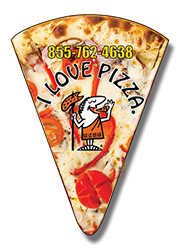 Car magnets
Drive up your brand impressions every time you drive your business vehicles around with these full color custom car magnets. It is one of the easiest and the most effective promotional strategy to employ these custom car magnets. Whether it's on your delivery truck or personal car, these magnets will get the word out without you having to do any legwork!
Every time you drive your vehicle to attend to your sales or service calls, your brand will make impressions. These full color magnets available in a wide range of sizes and shapes will easily pique interest among the audience so that even casual observers will turn into serious leads. Even if they may not require your services immediately, your logo will pop up in their minds first when they need services or products similar to yours.
Looking for more? Browse our collection of custom magnets to choose a model that will match your branding tone.