Did you Know Custom Picture Frame Magnets Make Great School Fundraiser Ideas
Now that the schools have reopened, administrators will be looking for a great school fundraiser idea beyond selling candy bars or creating coupon books. This is where custom picture frame magnets come to the bigger picture.
Picture frame magnets make great fundraiser ideas because they are easy to sell and affordable. Above all, it can be customized to fit any theme. Ideal for all types of events like school spirit events, football games, pep rallies and more, picture frame magnets will leave a lasting impression. Apart from preserving the memories of a special event or school photo, these full color custom magnets often make a prestigious fridge décor item for your prospects. The frame can have the school colors around it to enhance the look.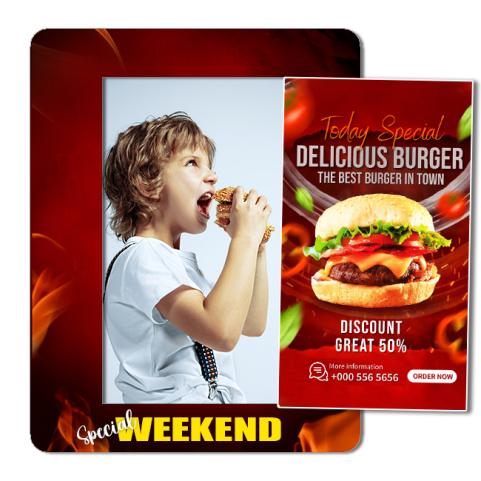 The frame with the punch out center will let your students to keep their school snapshots on it to make a unique picture frame. Just think of the impressions your brand on it will get every time they cherish their personal memories. It will surely give everyone in the family an added reason to think and talk about your brand more often.
For both the students and parents alike, buying photo frame magnets is a lot more affordable way to support a cause Thus. It is a win-win situation for all as it promotes school spirit while raising funds for the event.
Visually appealing
Picture frame magnets are available in various shapes and models. Thus it can accommodate different sizes of snapshots while leaving ample space for the message. Marketers can come up with a creative design that can incorporate various visual brand elements.
They Are Useful
Picture frame magnets are more popular than ordinary magnets because of its high utility. It will literally turn your fridge into a photo gallery that make heads turn. In addition, these super cute magnets make a handy way for the prospects to keep their shopping lists and reminders in their plain eye sight. Offer the double goodness of a display board for the snapshots of your prospects while also providing clients with your contact details, branding information. a handy magnetic business card or calendar!
Get dual advantage at the Price of One!
Picture frame magnets offer the advantage of getting two magnets for your prospects at the price of one. If designed properly, schools can get to advertise in two spaces rather than one. Thus, it is a great promotional item because it works both ways by promoting your brand, while offering a pretty keepsake for your audience. Even in today's digital era, there classic promo giveaways like custom magnets are something you can't leave by. The incredible staying power of magnets makes it one of the most popular mainstays for marketers. Just think of the exposure your brand will enjoy on the refrigerators for months to come.
Dynamic
Picture frame magnets will fit the different promotional themes, and a wide variety of businesses beyond educational institutions. Whether you wish to use it as fund raising items, promotional swag or mailer items, these popular handouts will fit your needs. Your recipients will love to show off the lovely pictures on these frames and place it right there on the fridge.
A crowd favorite
Custom picture frame magnets are a real customer favorite that will be appreciated year round. Display your business in brilliant full color, without being overwhelming, while giving your clients a useful tool in their every day lives. Choose from a wide range of shapes and models that will suit your branding theme. For instance, these heart-shaped magnets are great fund raising items for healthy heart awareness events; while these quirky tooth-shaped magnets are perfect to promote dental health among people. These unique picture frame magnets will serve as a constant reminder of your brand.
Fun to customize
Customization of these magnets with your special message will make them an attractive choice for businesses. Think of creative ideas to make your custom magnets stand out in style; and leave a lasting impression among family and clients alike. Call us today to get your order rolling!