Solid Reasons To Invest in Car Magnets For Brand Building
Businesses are constantly updating and changing their promotional strategies. So, if you are looking for a promotional item  that can change and update with your  promotional needs, custom car magnets are a perfect solution. Marketers can stick these full color magnets to the car surface, taken off or reposition easily to ensure maximum visibility. Moreover, if you decide to run a different promotion, you can switch it to another  vehicle that  may be taking a different route. It will help you to plan your target promotions with precision.
Long lasting
Moreover, car magnets are outdoor safe and designed to withstand the  elements effectively. Ideal to use in all 4 seasons, these full color magnets are made from superior quality magnetic materials. Low on maintenance, car magnets will also help you save  a lot of effort and time in optimizing your outdoor branding. At one time investment, car magnets make repeat impressions without any repeat effort. Thus marketers can utilize their time on their core business operations.
Easy to customize
Car magnets are fully  customizable to all your advertising needs. Add your logo, contact information, artwork and other details to make your brand stand out from the competitors; whilst reaching a wide range of customers on a consistent basis. The generous imprint space will help you to be at your creative best.  Car magnets will  offer the ultimate luxury of making  your promotional merchandise as unique as your brand. So, you can think unique and be original to make your custom magnets stand out.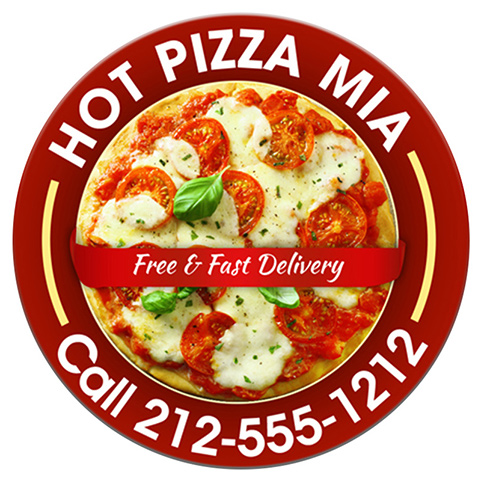 Make leads on the move
Probably not many custom giveaways  can make valuable leads on the move as car magnets. Once you stick it on the car doors, your brand will make valuable impressions everytime you drive around your business vehicle. Just think of the attention your brand will get every time your vehicle pulls into trade show venues and business events. These full color elegant magnet will enhance  your professional image and enhance the reputation of your business.
Immediate response
Outdoor car magnets also ensure almost an immediate response.  Place your marketing message cleverly on these logo items to engage the audience and get your recipients call your business. Anyone who drives next to the vehicles sporting these colorful magnets will surely be tempted to know more about the services you offer. They are likely to make a call before the magnets go out of their sight, which means you get super quick response for your outdoor advertisements.
Budget friendly
Car magnets ensure regular brand publicity without repeat investment or effort. Thus at one time investment you get repeat impressions. Moreover they serve as moving billboards for your business that will get you more customers than any other forms of advertising. The cost of car magnets will come only to a fraction of  traditional advertisements like newspaper or TV advertising. Plus, it has a long shelf life and involve no maintenance charges or renewal costs.
Portability
The high level of portability of car magnets will take your brand right into your customers. No matter whether you are driving around or keeping the car parked in a crowded location, car magnets will get your company name right in front of your target audience
Have a better idea of using custom car magnets in your promotions? Share your thoughts with us on our facebook page to join an interesting conversation