Strange Yet True- Custom Magnets Can Boost Your Brand Exposure
Sometimes , strange and unconventional business strategies sell!. Whenever an organization comes up with a new product or add a fun spin to a giveaway like custom magnets that already exists, it will pique easy interest among the audience and help marketers to stand out from the crowd.
Thus, to get  your message inside the users' minds, you don't necessarily need a premium giveaway with a high sticker price.  If you are looking for a If you need fresh ideas to apply to your marketing strategy, then why not try custom magnets?
Promotional  magnets are proven ways to drive sales and referrals! Affordable and infinitely popular, these full color magnets will ensure a great brand exposure at a fraction of the cost of most conventional advertising including digital media advertising.
 Here are some interesting ways to use logo magnets for boosting your business. If you haven't been using custom magnets for marketing all these days, you will surely wonder what took you so long to include these powerful and affordable products into your marketing plan.
Let's be frank about it! Custom magnets are often overlooked by small businesses because they seldom believe that magnet marketing can indeed build their brand. However, there are so many great reasons to use this type of marketing as part of your strategy.
Budget friendly
Custom magnets have one of the  lowest costs per impressions, which make them a budget friendly way  to reach new customers. Thus marketers can create a formidable marketing impact at a fraction of the cost  of conventional marketing . So, if you wish to ensure multiple interactions with your target audience at one time payment, custom magnets could well be your choice.
How to Use Magnets in Your Marketing Strategy
As freebies
Moreover, custom magnets make useful handouts for your clients. Hence you can be sure that your clients are more likely to keep and use the merchandise you give them.  The best part is that models like custom fridge magnets will keep your message right in front of them at all times; as these full color magnets will earn a  permanent display spot on their fridge doors and filing cabinets.
Likewise, the success of any marketing campaign relies heavily on repetition. More the prospects are exposed to your branding , the more likely they are to reach out to you as their first call. Now that you know why magnet marketing will boost your brand, get started right away.
Popular custom magnet models that can be included in your marketing strategy
Business Card Magnets
Business cards are important for any business, as it makes their first point of contact with their prospects. However, paper cards often get damaged or misplaced; this is what makes magnetic business cards a top choice.
The chances of it remaining stuck to a client's refrigerator or filing cabinet is fairly high.  Apart from being a ready reference of your contact information, business card magnets make a handy way to hold up the shopping lists of your prospects.  Thus, it will always remain in the eye span of your recipients; and there is a greater chance for your business to be a customer's first call.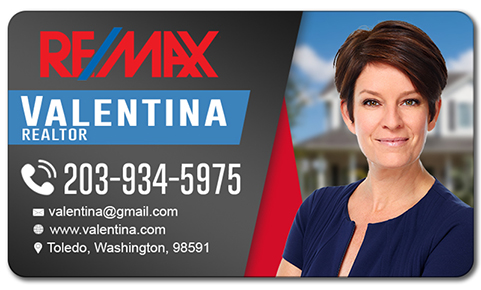 Outdoor Car magnets
Take your message out there to the masses at ridiculously low rates with car magnets. It will promote your business on the go, spread awareness on social causes or even raise funds for the local sports team. Explore the incredible possibilities of custom car magnets.
Calendar Magnets
Get 365 days of promotions at one time investment with calendar magnets and engage customers from all walks of life. After all, who doesn't use a calendar? Thus, businesses of all niches including real estate, doctors office or  fashion brands can invest in these high utility custom magnets. The best part is that these full color magnets will not just keep the  clients engaged, but they also lead to referrals.
Refrigerator Magnets
Everyone loves fridge magnets! In fact you wont find even a single  fridge without magnets in American households. Thus, custom fridge magnets make a fantastic way to reach and retain customers and share your marketing message in a subtle way without being intrusive. Choose from various models and these like save the date magnets, sports schedule magnets, picture frame magnets and more.
Sports Schedule Magnets
Sports schedule magnets are hugely popular among fans. Available in various models, these magnets can be customized with full season schedules for any sporting event like football, hockey, golf, basketball, baseball, racing, and soccer.
Add the schedules with your favorite pro, college, or high school teams along with your logo, and contact information.  Your customers will never miss a game, while you will be their first call whenever they need your services! Win-win
Magnetic Notepads
Give  your clients  the dual utility of a notepad and a custom magnet all at once with custom magnetic notepads. Budget friendly and practical, they are also a great way to gain instant recognition for your brand. Every time they use these notepads, your name will remain fresh in your clients' minds.
Ribbon magnets
Support a social cause with these well recognized awareness magnets and leave a tremendous impact among your donors and volunteers. These full color magnets are indeed a great way to rally the people in your community together. It can even be customized for even school or community fundraisers.
Picture frame magnets
Everyone will appreciate to get items they use the most. This is what makes custom picture frame magnets a great choice. While it makes a great way to display the family snapshots or inspirational quotes for the prospects, these full color magnets will make a tangible reminder of your brand. Picture frame magnets easily relate to their lifestyle and help them relate to your brand easily. In addition, you can make it more value added by imprinted  useful information like emergency numbers , CPR tips or kitchen conversion charts that everyone may need.
Shaped magnets
What if you can invest in  promotional shaped magnets that are shaped like your product line? Wont that be cool? Apart from leave a lasting impression in the minds of the audience, it will also make an interesting talking topic among people around, which will drive fresh leads and word of mouth publicity.
Need more ? Browse our collection to choose a model that will fit your branding theme.