The Best Ways to Use Custom Die Cut Magnets
Die cut magnets that can be made into any shape are indeed a fun way, to promote your business or event. Whether you shape it like the smaller versions of your logo or mascot , these full color custom magnets win hands down as giveaways. You can even show off products with custom shaped die cut fridge magnets. The possibilities are endless!
The primary purpose of custom die cut magnets in business is to help you get more business and retain the leads. For instance, if you have a pizza joint, why not create a full color pizza shaped die cut magnet with your business name. It will surely pique easy interest among the audience.
The best ways to use die cut magnets
Available in various sizes for indoor usage , these full color magnets will get your message across to your target audience. In addition, it will engage them with your message in a light hearted way for a long time. You can hand it out to your customers, or even sell them to raise funds. Giving away popular giveaways like custom magnets is an excellent way to get your message out there; and make a lasting impression.
Customize these full color die cut magnets with a unique design, to make it memorable. Besides, it is a nice way to highlight what you have to offer to people who might have not even known about you yet. These unusual die cut magnets will grab easy attention of anyone who sees it and ensure free advertising. Plus, these long lasting magnets will look good and make consistent impressions at one time investment. It is also easy for marketers to find an appropriate die cut magnet for their promotions as these are available in various sizes,. Super trendy and durable, these full color magnets will stick easily to any magnetic surface.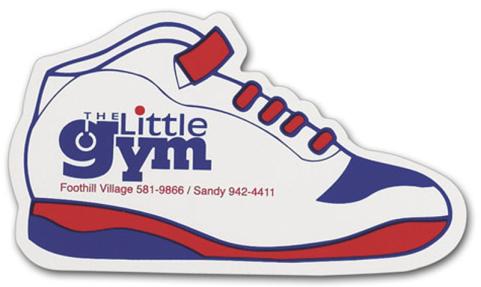 How die cut magnets Market Your Business
It doesn't matter what kind of business you're in; custom die cut magnets will highlight your logo. It can be effectively used for your business promotions. Whether you wish to promote your fashion brand,or sports league, die cut magnets will make a great choice.
Further, people love to get freebies like custom die cut magnets that will look cool on their fridge doors or filing cabinets. It is thus a perfect way to build brand loyalty.  Available in a wide range of quirky magnets, die cut magnets make a smart replacement for conventional rectangle shaped magnets. Customize it by adding your logo to get all eyes on it. Being different will help you to stand out. Budget friendly and easy to distribute, these logo items will also make excellent mailer items, trade show swag and promotional giveaways.
Popular
The distinctive shape of die cut magnets will also make people want to put in on their car or fridge. Easy for people to apply and take off , die cut magnets have always enjoyed an incredible fan base.
So, how do you plan to make use of the popularity of die cut magnets in your promotions? Share your ideas with us on our comments section.