Picture Frame Magnets For Valentine Day Promotions
Posted by Cmagnets
Posted on January 11, 2020
Come February, it is time to celebrate love in the air for people all over the world! Marketers who try to cash in on this theme will surely find these logo magnetic picture frames a cool bet. Check out these heart shaped picture frame magnets that will surely make your logo part of their special moments. Available in several shapes and standard sizes, picture frame magnets make great customized items for brands and organizations.
These picture frame magnets enjoy a very long retention in the hearts and home of your recipients. You can personalize these custom magnets by printing something useful on the inside of the frame like a erasable to do list or a year-at-glance calendar, which will further add up to the popularity of this logo gift. At Custom magnets direct, we offer free artwork assistance and shipping.
Here are some of the popular custom picture frame magnet models that can be considered for your promotions.
Custom 1000 Picture Frame Heart Magnets 20 Mil: This adorable heart shaped refrigerator magnet makes a perfect gift for Valentine Day promotions. Imprint your logo and message and hand these out during tradeshows or withy store purchases. These budget friendly magnets can also be used as fund raising items in schools or churches. These tokens of love will ensure instant appreciation for your brand from your customers and business partners.
3.5 x 4.5  custom heart punch magnets picture frames 20 ml : These make a creative way of expressing your message. These logo magnets can be employed for fund raising events and in social awareness campaigns. Personalize it and hand out during festive mailer campaigns or during outdoor promotions and see how these cost effective logo gifts will sway the popularity of your brand in your favor. Advertisers placing bulk orders can also avail budget savings and discounts.
3.5x 4.5 custom printed rectangle picture frame punch magnets These full color punch magnets will readily impress your customers with just one time investment. Imprint your logo and message and see how these logo items will promote your brand without any concerted effort. This magnet that offers high utility value can be offered as a business gift in all seasons.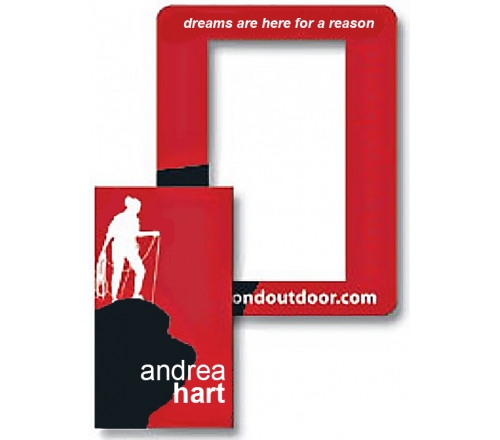 4 x 4.7 picture frame magnets These logo gifts will make your message stay in public memory for longer time. Apart from being a potent promotional item, these picture frame magnets also double up as personal gifts. If you have been looking for an appropriate handout to celebrate Valentine, do not look beyond these practical picture frames, which will let your recipients cherish their priceless special moments and love of their lives.
Custom picture frames make a wonderful gift idea for all types of businesses and as personal gifts and party favors. Who doesn't like to celebrate the intangible emotion of love after all? Hand out these logo gifts of custom picture frames and get your message in a sweet and subtle way.