How Custom Bumper Stickers Will Boost Your Marketing Campaign
Posted by Cmagnets
Posted on October 21, 2019
Stickers may be small and ubiquitous, but they hold tremendous promotional capacity in building up brands and getting your message out. Curious to know how these signs help you promote your business.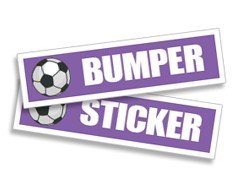 Here are some benefits of custom stickers that you may not have thought about.
 Establish brand name
Even new businesses and start ups can make a bold presence in the market by using these high visibility and popular custom bumper stickers. When your business name and contact details are highlighted on the vehicles, it will become familiar to your community and secondly your business gains more credibility in the market.
Guess how often people will talk about your brand?  Don't you think that it is the best way to make a loud impression in the market?  When more people develop trust on your business, you will have more leads and word of mouth publicity and that will make a great turning point for your business.
Budget-friendly
If you are on a modest budget, bumper stickers from Cmagnets will serve your needs. It is a perfect choice for covering more ground without making a big investment. Choose from a range of sizes and popular shapes like circle, oval or rectangle to match your theme.
Eye catching
These full color stickers will never fail to grab the attention of your audience. You can add a fun pop of colors and identity to your business vehicles and stand out in the competition. Your recipients will also be thrilled to sport these cool stickers on their cars and your message will travel the distance.
Versatile
Stickers are versatile and can be put to use in many ways. Whether you use it to support your home team, to raise funds for a social cause or to make an announcement or product launch, stickers will build up a buzz easily.  Stickers are not just for business promotions. You can even use it to get your audience engaged with your brand, to spread cheer and make people think or laugh.
Have you used custom stickers as your marketing items? If yes, do tell us your experiences with us on our facebook page and join an interesting discussion.