Why Marketers Find Custom Fridge Magnets Amazing Tools Even Today
There are many benefits in using fridge magnets for marketing purposes. First of all, they're extremely cost-effective unlike traditional marketing materials such as TV or radio ads. As marketers can use these full color indoor custom magnets over and over again at one time cost, it will ensure a high ROI for them and generate more customer leads without any repeat effort.
For example,  your message and logo on fridge magnets will get easy attention of everyone who happens to see it. They will find it easy to get in touch with you when they need your services. That way,  you can turn a casual observer into a paying customer.
Another great thing about these logo  magnets is that they're easy to use. You don't need any special skills to apply them to your car. Just stick to the fridge door or filing cabinets or other magnetic surface. Plus, they're easy to remove as well, so your recipients  can take them off and reposition whenever you want. Just imagine the exposure your brand will get every time they see your brand on these magnets and how it will enhance their brand familiarity. The more your prospects get engaged with your brand the more likely they are to use your product or service.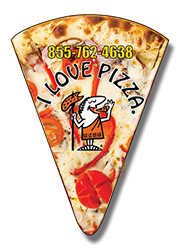 Different types of Fridge magnets
There are many different types of Fridge magnets available on the market. The most popular type is business card magnets. Some of the other models include calendar magnets that ensure 365 days of brand visibility at one time investment and sports schedule magnets that offer a glimpse of the sporting events ahead for your prospects while also keeping your message well displayed.
Another type of magnet is the die-cut magnet that can be made in a any shape that you desire to complement your mascot  or product line. These are quite popular among business owners because they  can easily get their target audience to relate with their brand. These magnets can also be printed in full color, which makes them really eye-catching.
Tips to consider
Make sure your  message on magnet is big and visible to effectively engage the audience with your message. Include important information such as your website or phone number. This will make it easy for people to get in touch with you if they're interested in what you have to offer.
 Fridge magnets are easy to distribute. So marketers can choose to handout it in person or as mailer items to get the maximum  outcome.
So, if you are looking for a way to market your business on a modest budget fridge  magnets are a great way to do just that! They're affordable, easy to use, and they can be customized to fit your brand. Plus, they stick right to your fridge doors to stay there as a tangible reminder of your brand. Choose from a variety of different magnet designs  that offer something special for everyone.
Whether you're looking for a sleek design or something more fun and colorful, our team will help to make your magnets look exactly how you want them to!